The most recent addition to Icelandair's fleet – Boeing 757-3E7 with registration number TF-ISX – had arrived at Keflavik airport 2nd of March. The plane was bought from Israel airline Arkia, where it was flying for last 18 years. During this period one of the rarest and luckiest cases happened: civil aircraft escaped from two anti-air missiles.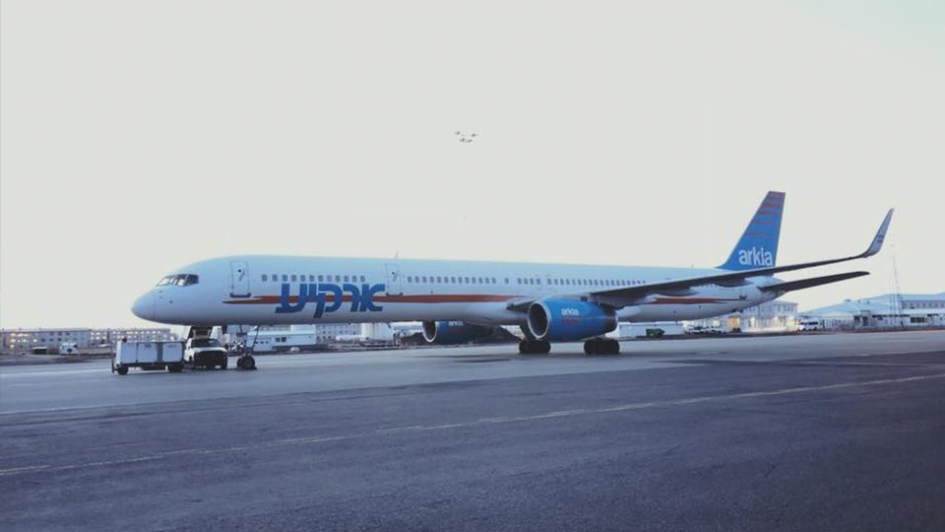 Boeing 757-3E7 with tail TF-ISX touchdown Keflavik runway 2nd March 2018. Before that, it covered more than 2900 nautical miles, flying from Tel Aviv airport (LLBG), which is the base airport for its previous airline – Arkia. The airline is second by size in Israel after El Al. Its route network includes European and Mediterranean destinations. Years before there were flights to Africa also, where one the most remarkable story in civil aviation history happened.
Lucky tail
28 November 2002. Thursday. Flight 582 of Arkia airlines is departing Mombasa-Moi International Airport (HKMO) in Kenya, going to Tel Aviv. 10 crew and 261 passengers on board of Boeing 757-3E7 with registration 4X-BAW. The aircraft lined-up the runway 21, speeded up and lifted up to the sky. Just after pilots reported: they saw a flash of the light from the left. The second one just moments after. Police guards were sent to the approximate location of launch sites, where they found boxes for soviet types SAM missiles and two launchers SA-7 "Grail".
SA-7 portable anti-air man pad was invented in USSR in 1969. The Soviet name "Strela-2" (means "Arrow" in Russian) got NATO's name "Grail". 1443 millimetres 9М32 missile weighs 9,15 kilograms on start stage. It takes only 10 seconds to prepare it for launch. After the start, the missile could fly up to 14 seconds delivering 1,17 kilograms warhead. It is enough to hit targets on 3400 meters distance from the launcher and reach targets flying from 50 to 1500 meters above the ground. From the moment of its serial production, the man pad was widely spread and then used in all main weapon conflicts in Asia and Africa. Here is the video of the SA-7 launch.

In Mombasa, the launch site was just two kilometres from the airport. For some unexplainable reason, which can hardly be called otherwise than huge luck both missiles missed the aeroplane. It was unclear during some period after take-off if the plane got any damage from these two shots. Firstly, pilots started to prepare emergency landing in Nairobi. Later they had changed their decision and continued to fly to Tel Aviv. The aircraft landed successfully in Israel after 5 hours flight. All Arkia's flights to Kenya was suspended immediately. It was discovered later that terrorists attacked a hotel in Kenya the same day.
Modern times
In 2017 the agreement between Icelandair and Arkia was signed. The news came at the end of the year, then it was announced the aircraft will arrive in Iceland at the beginning of 2018. At February,16 Israel aviation spotter Ido Wachtel published a photo of the plane in Tel Aviv airport with a comment "After 18 years in Arkia fleet, going to leave TLV for Icelandair. Carrying new registration – TF-ISX".

His colleague Rami Mizrahi had added that the plane was "seen here performing an engine's test before a delivery flight to her new owner Icelandair". Flugblogger had noticed, that serial number of the plane is 30179, the same for both registrations: Israel 4X-BAW and Icelandic TF-ISX.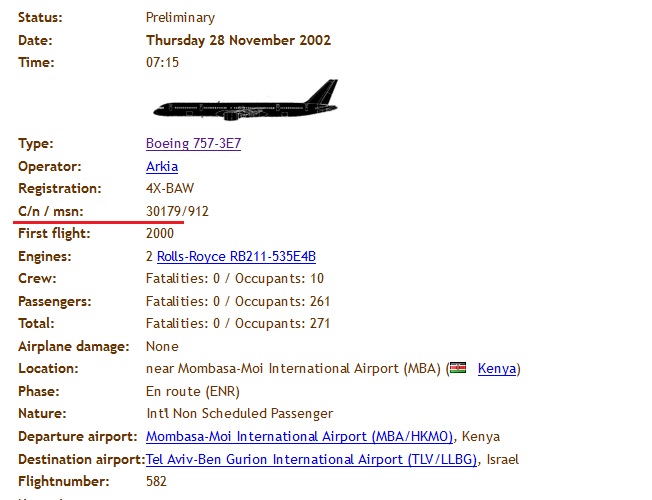 "100 years of sovereignty" special livery

In 27th of May, the plane flew from Keflavik airport to Norwich International Airport in the UK as ICE6050 for obtaining new livery. The painting was finished at the beginning of June. TF-ISX has appeared in new colours.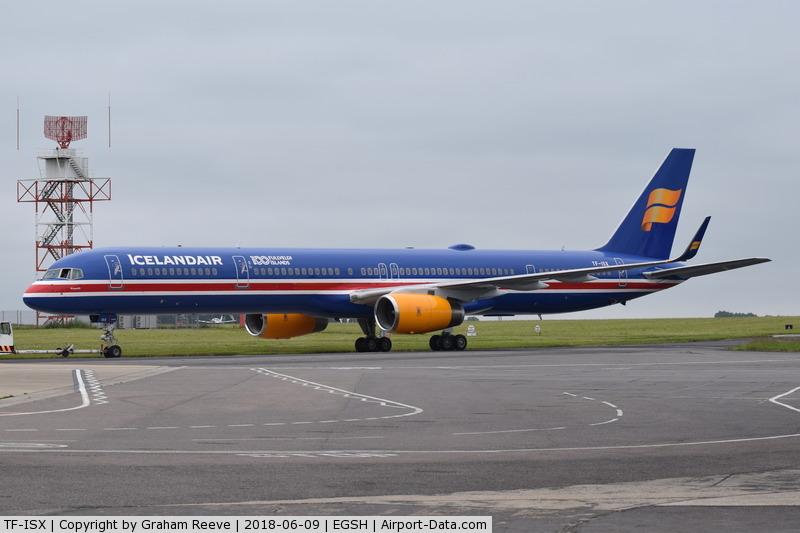 The aircraft has got special livery "100 years of sovereignty" of Iceland. It related to the agreement between Iceland and Denmark signed on 1 December 1918 and valid for 25 years, recognised Iceland as a fully sovereign and independent state in a personal union with Denmark.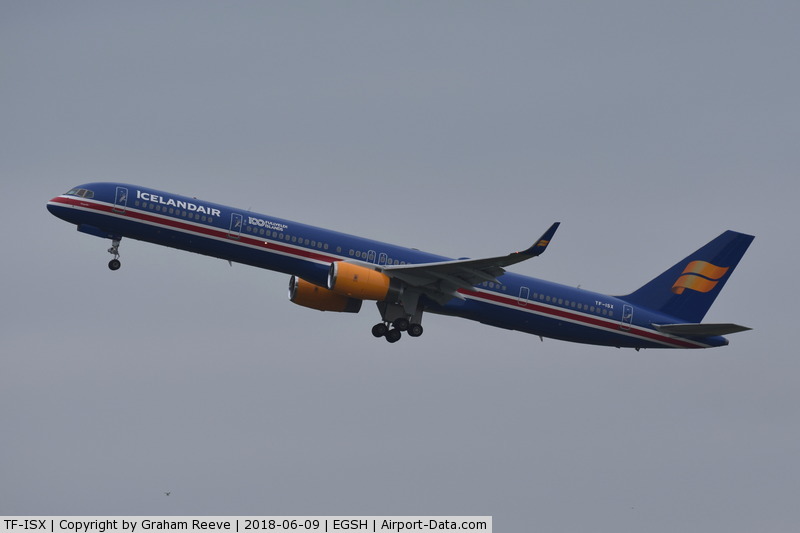 TF-ISX became the third special livery in Icelandair's fleet together with Boeing 757-200 TF-FIU "Aurora Borealis" and TF-FIR "80th years of Icelandic aviation". Boeing 757-300 TF-ISX came back to Keflavik airport as ICE6051 in 9th June. Here is the video of TF-ISX arrival to Keflavik.
// Update 13 June 2018 //
At 13th June Boeing 757-300 TF-ISX performed its first Icelandair flight with passengers. According to Flightradar24, at 7:25 UTC it took-off from Keflavik airport as ICE520 and flew to Frankfurt, Germany. The flight took 2 hours 56 minutes. The plane performed back flight to Keflavik as ICE521 and arrived to Iceland after 3 hours 27 minutes of flying.