Keflavik airport received a message about a bomb threat. It happened just after UPS freighter Boeing 747-8F with registration N618UP diverted there, performing UPS flight UPS214 from Cologne (ICAO: EDDK) to Lousiville (ICAO: KSDF). The chief of the police in Southern Iceland Úlfar Lúðvíks­son confirmed to journalists the fact of receiving the threat, MBL reports.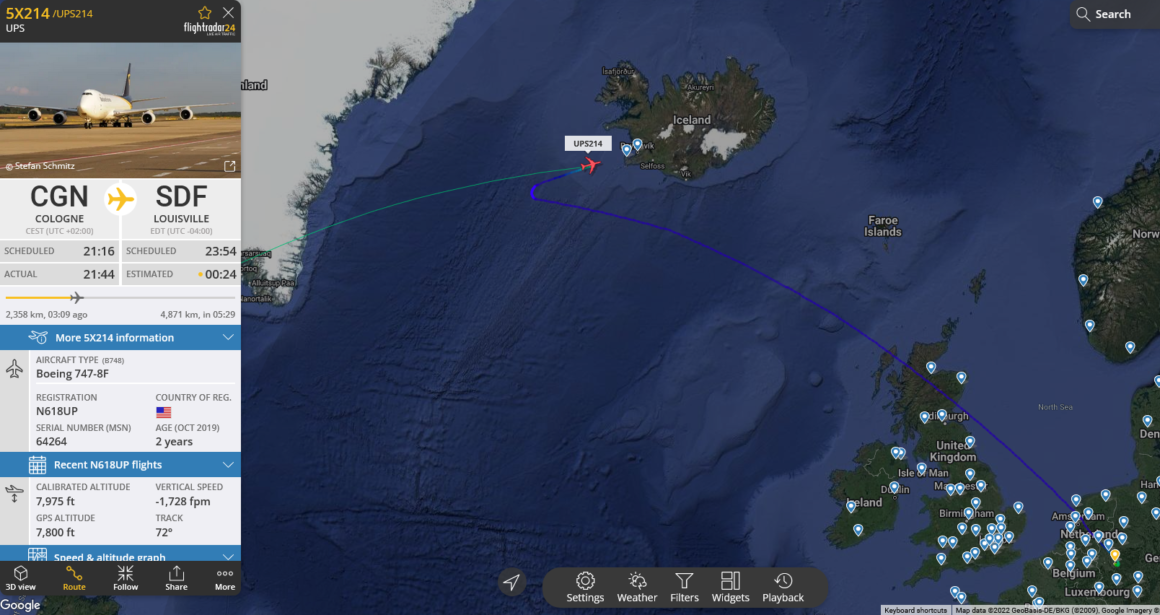 Several flights were put to holding areas while ground forces were investigating the threat. In the end, Airbus A321 with registration HA-LVH, performing WizzAir flight WZZ1539 from Warsaw (ICAO: EPWA), and Boeing 737-800NG with registration F-HTVI, performing Transavia flight TVF36HF from Paris (ICAO: LFPO), diverted to Egilsstaðir (ICAO: BIEG). Meanwhile, Airbus A321neo with registration D-AIEB, performing Lufthansa flight DLH8JF from Frankfurt (ICAO: EDDF), and Airbus A320neo with registration TF-PPD, performing Play flight FPY6F from Barcelona (ICAO: LEBL), turned back to Europe. Another Airbus A320neo with registration TF-PPA, performing Play flight FPY9B from Madrid (ICAO: LEMD), diverted to Akureyri (ICAO: BIAR).
Flugblogg's sources in the airport say the bomb threat is related to the diverted freighter plane and at 00:30 UTC the situation is not resolved yet.
UPD(29.September 14:50UTC): The plane was checked and flights were allowed in Keflavik at 8:00UTC.