Airbus A330-343 (reg. TF-WOW) was damaged during towing in Keflavik airport. It is grounded now at least for next several weeks. During this period, icelandic low-cost airline WOW air has to use narrow body planes for long haul routes, as one of its big planes is unavailable for flights.
It was nice frosty morning of January.22 in Keflavik international airport (ICAO: BIKF), when one of WOW air's Airbus A330-343 (reg. TF-WOW) has been towed to its position. Just the day before this plane finished flight from Amsterdam (ICAO: EHAM) to Keflavik, and was getting ready for a next flight.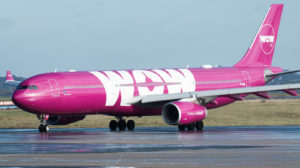 Unfortunately, the incident happened during towing procedure on taxiway. The surface was covered by ice after cold night, and ground crew did not requested to clean it up or put some gravel on top of the ice crust. "Small tow truck compare to the big plane, "– described the situation source from Keflavik airport to Flugblogger. Although it was TLD TXM-350, which can take up to 300 tonn widebody aircrafts, even a wind gust was enough to move the huge plane to a side on such ice rink.
During the movement, the plane pulled tow truck underneath itself. Roof of the truck went along planes fuselage, putting scratches on it. Flugblogger have checked the photos from the accident, which cannot be published here, because of the source's safety reasons. It seems like at least one of the TAT probe was seriously damaged. In addition, the fuselage itself was deformed after the hit together with nose wheel assembly.
After the incident, the plane was transported to big hangar in Keflavik airport for repairing. According to Flugblogger's source, it will take at least "some weeks" to fix all damaged parts.
"We all had a big lecture about it and all pain all around, but it happens. Harsh conditions and snow service people can barely keep up, "- says Flugblogger's source.
// Update 12.02.18 //
TF-WOW still in hangar after 3 weeks since incident, Flugblogger's sourse told. Mechanics built a special constructure near nose gear of the airplane to investigate how badly it was damaged. According to Flugblogerr's source in Keflavik airport, spare parts for the aircraft are already in hangar, however the repairing process had not been started. Now mechanics are waiting an engineer from Airbus company. It seems that after first look to the damaged part of the plane it turned out that damage is more serious than just superficial, sourse told.
According to Flightradar24, TF-WOW usually does flights from Keflavik to Paris and Amsterdam in Europe, and Los Angles, Miami and San Francisco in US. Without one of wide body aircraft, smaller Airbus A321 do its job on these routes. However, narrow body aircrafts have no enough fuel reserve for such long flights.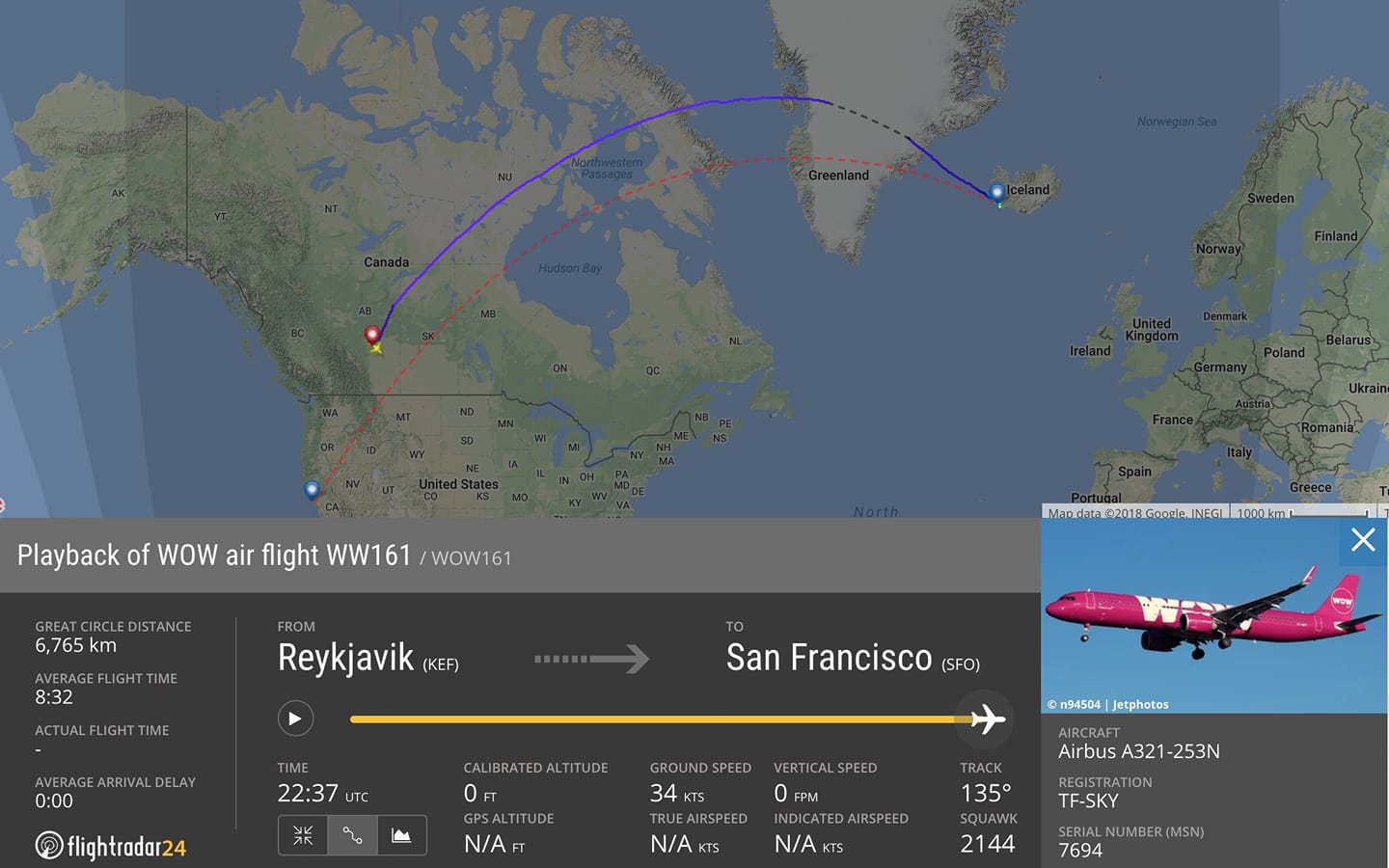 As it was noticed last week by many avitation specialists, WOW air put Airbus A321 on the flight from Keflavik to San Francisco (ICAO: KSFO), which is almost meet its maximum range. Average flight time on the route is 8 hours 30 minutes. At February.1 Airbus A321 (reg. TF-SKY) could not reach its destination from first attempt due to strong headwing. It diverted to canadian Edmonton (ICAO: CYEG) for fast refueling, then continued its flight.
// Update 26.02.18 //
TF-WOW came back to the sky after 1 month repair in Keflavik's hangar. According to Flightradar24, it flies its usual routes to Paris (LFPG) in Europe, also San Francisco (KSFO) and Los Angeles (KLAX) in USA.