The major Icelandic airline launched the aircraft with journalists around Iceland. Flugblogger was on board to learn about the newest addition to their fleet, reasons for the delay of new aircraft launch to regular flights, the impact of acquirement to ticket prices, a faith of Boeing 757 in Icelandair and more.
Premiere in the shadows
Noise and din, crowds and flashlights are first associations, which come to mind when we are talking about the launch of the newest type of aircraft. Not in case of Icelandair. Their first Boeing 737 MAX 8 with registration plate TF-ICE arrived in Iceland around midnight 4th of March and was noticed only by aviation people. In the same manner, two more planes of the same type landed in Keflavik with tails TF-ICU and TF-ICY. Dozens of leaked photos and several videos on social networks, no official sound.
At the beginning of April, some aviation geeks noticed Boeing 737 MAX 8 with its ICAO code "7M8" appeared in Icelandair schedule on flight tracker Flightradar24. The similar information was on the Icelandair website for flights to Berlin and some cities in the USA. However, each time changes were coming to the schedule few hours before the departure, when 757 was put instead. It was impossible to predict wherever Boeing 737 MAX will fly or not. Some Icelanders even had bought tickets to Berlin with hope to fly on a new aircraft. Nevertheless, they were not lucky enough.
Icelandair Vice President for Corporate Communications Guðjón Arngrímsson explained to Flugblogger there is no mystery behind that: "I think, probably, it's normal that we put new aircraft on schedule for a long advance. Then, because it is a new type of aircraft, which Icelandair has been putting in own seats and entertainment system, a lot of documentation and things like this have to happen, it was delayed by 2-3 days. But it only has to do with paperwork, nothing to do with aircraft itself, that's why we waited for a few days".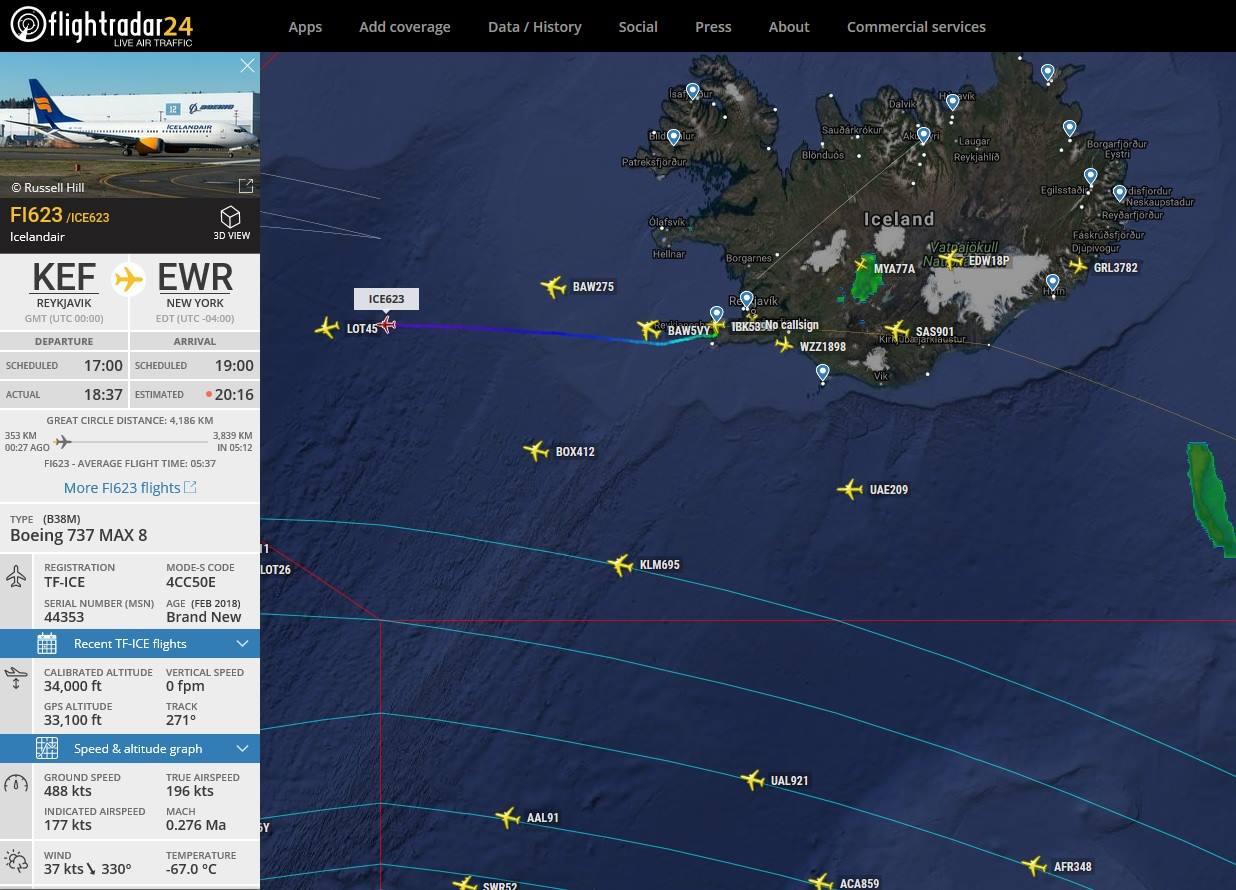 The evening of Friday 13. Without any special announcement, Boeing 737 MAX 8 (TF-ICE) made its inaugural flight with passengers on a regular route from Keflavik to Newark airport in New York as ICE623. 175 people and some cargo on board. Then it came back to Keflavik. The history of new type of aircraft in Iceland has begun.
Smells like new plane spirit
Official presentation for Icelandic and foreign journalists was appointed to 14th of April, day after new Boeing was presented to passengers. Almost 70 people, with a high staff of Icelandair among them, arrived at the airport in Reykjavik downtown in the rainy Saturday morning. The meeting was supposed to start at 10:15. Five minutes later bright xenon star lighted up to the left of the top of main Icelandic church Hallgrímskirkja: newest Boeing 737 MAX first time in history was approaching runway 19 of Reykjavik airport.
After its touchdown, the feeling appeared like it is not so rainy outside and might be a bit warmer than it seemed before. In the queue for boarding near the gate, the word "spennandi" (Icelandic – "exciting") was shouted several times. Greeting pilots, who going down the stairway, no one could hide a smile.

The celebration continued on board from the cabin crew's "Goðan daginn!" (Icelandic "Greetings"), to the speech of Icelandair Group President and CEO Björgólfur Jóhannsson. "Thank you for taking part in this historic day of celebration flight of our first Boeing 737 MAX aircraft. First, of 16 we will receive the next 3 years" – Björgólfur Jóhannsson said.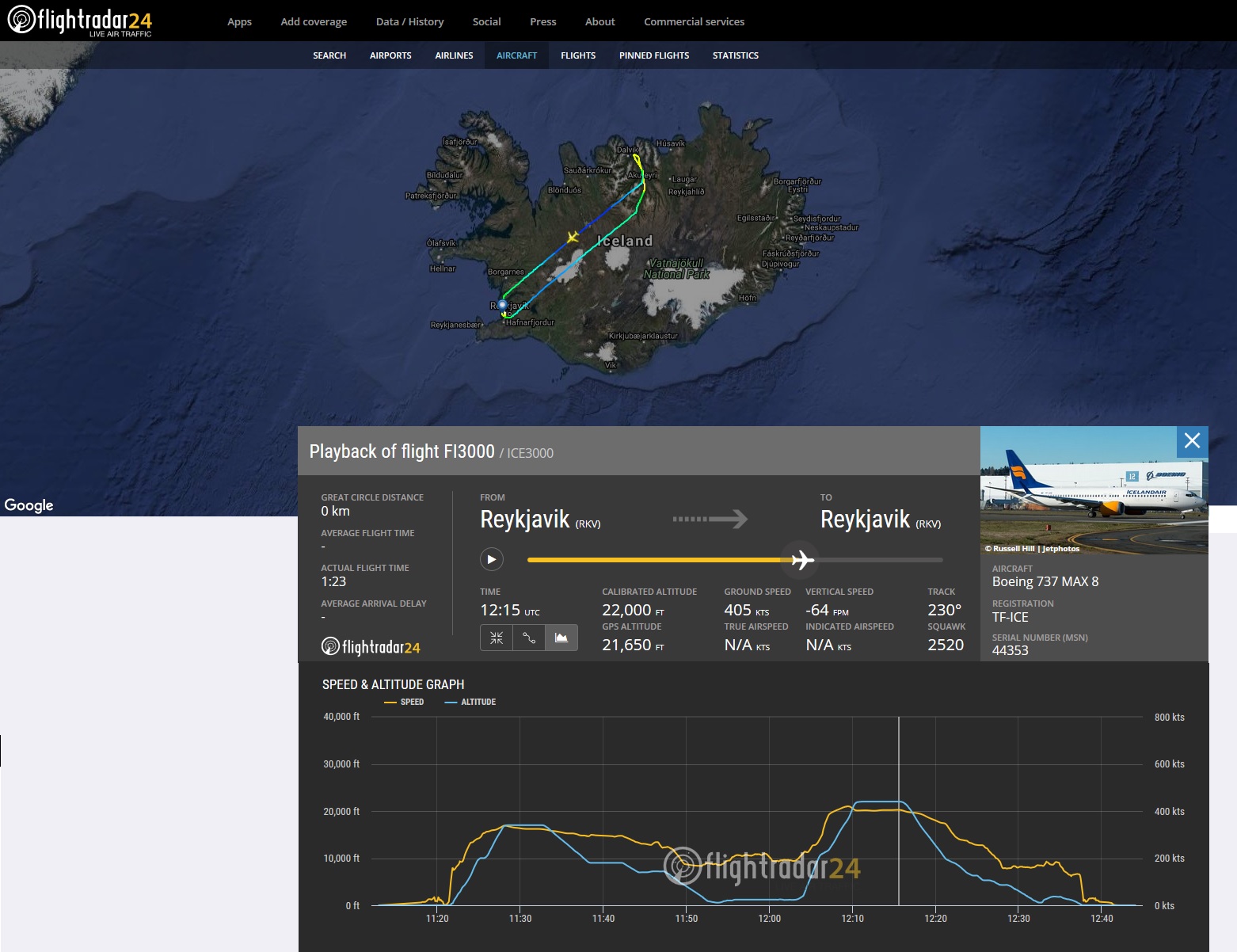 It seems the atmosphere of exciting sneaked to aircrafts cockpit too. After take-off from Reykjavik airport pilots started to climb FL170 with vertical speed more than 4 400 feet per minute. TF-ICE went towards Akureyri, where was the only possibility to find more or less good weather for air photoshoot in Iceland today.

Another reason is Akureyri in 1937 was the birthplace of the Icelandic airline Flugfélag Akureyrar (Icelandic – "Akureyri airline"), which after several merges and renames became "Icelandair". In other words, the roots of the modern national carrier are there.
Boeing 737 MAX showed its colours during lowpass above runway 01 of Akureyri airport, made U-turn, waves with its wings over the town and started to climb towards the south. Emotions reached the highest level, vertical speed increased to more than 5 000 fpm during climbing to FL200.
After less than 30 minutes the aircraft was approaching runway 19 in Reykjavik airport for the second time today. Pilots did another low pass over the airport, circle above capital's downtown and finally, gently put their newest toy on the ground. Full reverse until complete stop due to the short runway. On the apron crowd of people in "spennandi" mood because of the gorgeous guest.

Guðjón Arngrímsson said to Flugblogger that the crowd is the staff of Icelandair. "We have our annual staff event tonight, and after the flight with journalists, the aircraft will be exhibited for the staff here at the airport. We are expecting about 2000 people today" – Guðjón Arngrímsson told.
737 versus 757
Boeing 737 MAX is newer, with engines that are more efficient, less maintenance and 20% cheaper in operational cost than Boeing 757-200. The capacity of ordered nine 737 MAX 8 is 160 seats and seven 737 MAX 9 is 178 seats compare to 183 seats in 757-200. However, there is no reason to conclude that 737 MAX will be substance for 757-200, Icelandair Chief Operations Officer Jens Þórðarson told to Flugblogger.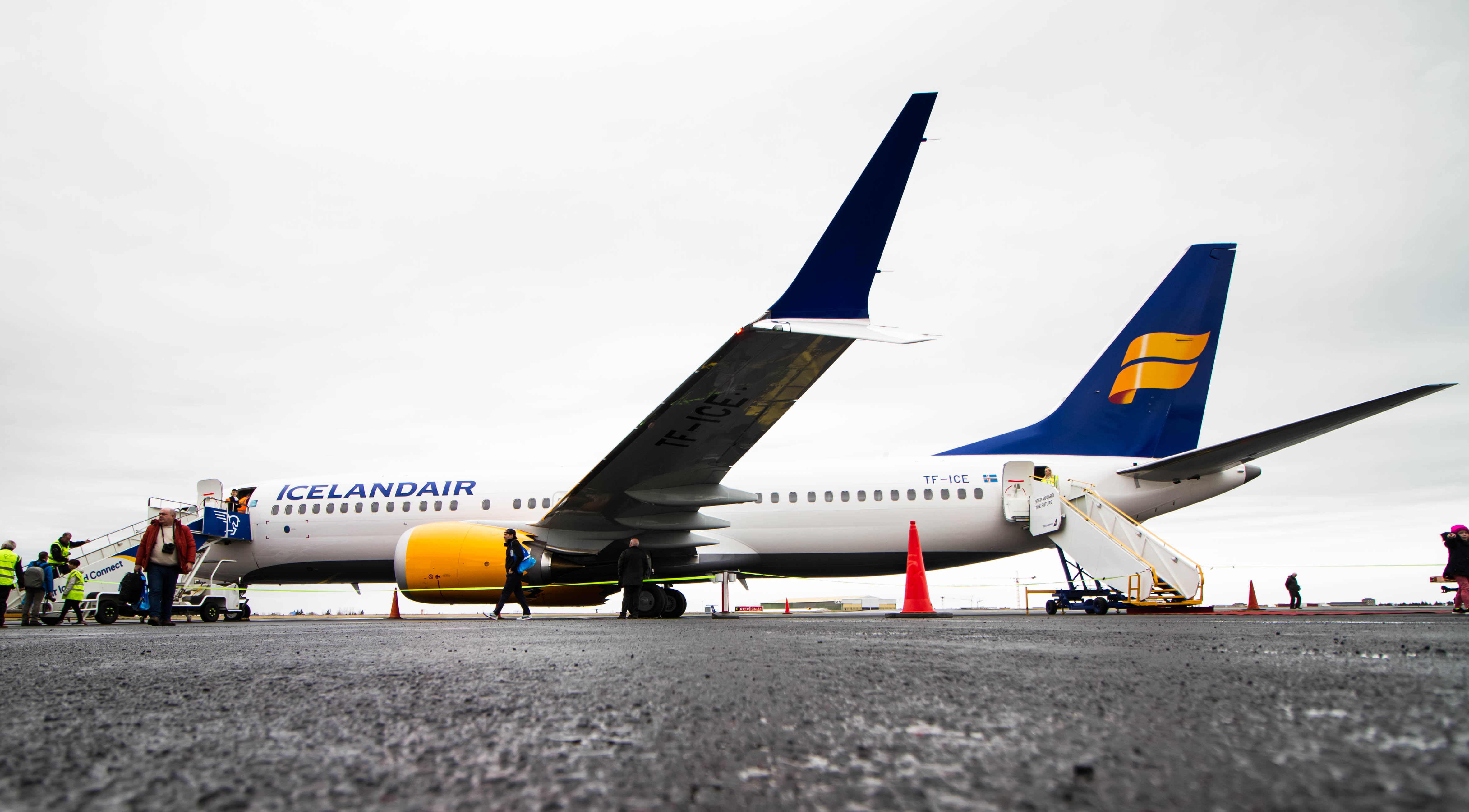 Discussing the future of 757 in Icelandair he said: "It is going to spend a few more years in our fleet. It is a good aircraft, fits our needs perfectly. But, of course, it is something we continually revisiting, seeing what the best ways. We often spoke about 20-25 years, but it is what we constantly revisiting and see how it fit and what other aircraft are available and etc."
The same time Þórðarson emphasized that 737 MAX will not change 757 in Icelandair's fleet because: "[737 MAX] does not fit many of our destinations, because we fly long legs. So we need something different to be able to serve all network with another aircraft".
Jens Þórðarson refused to uncover for Flugblogger details of the 737 MAX contract between Icelandair and Boeing. According to Boeing website, Boeing 737 MAX 8 costs around $117.1M (11 bln 609 mln ISK by the converter of Islandsbanki website) and Boeing 737 MAX 9 price is about $124.1M (12 bln 304.5 mln ISK by the converter of Islandsbanki website).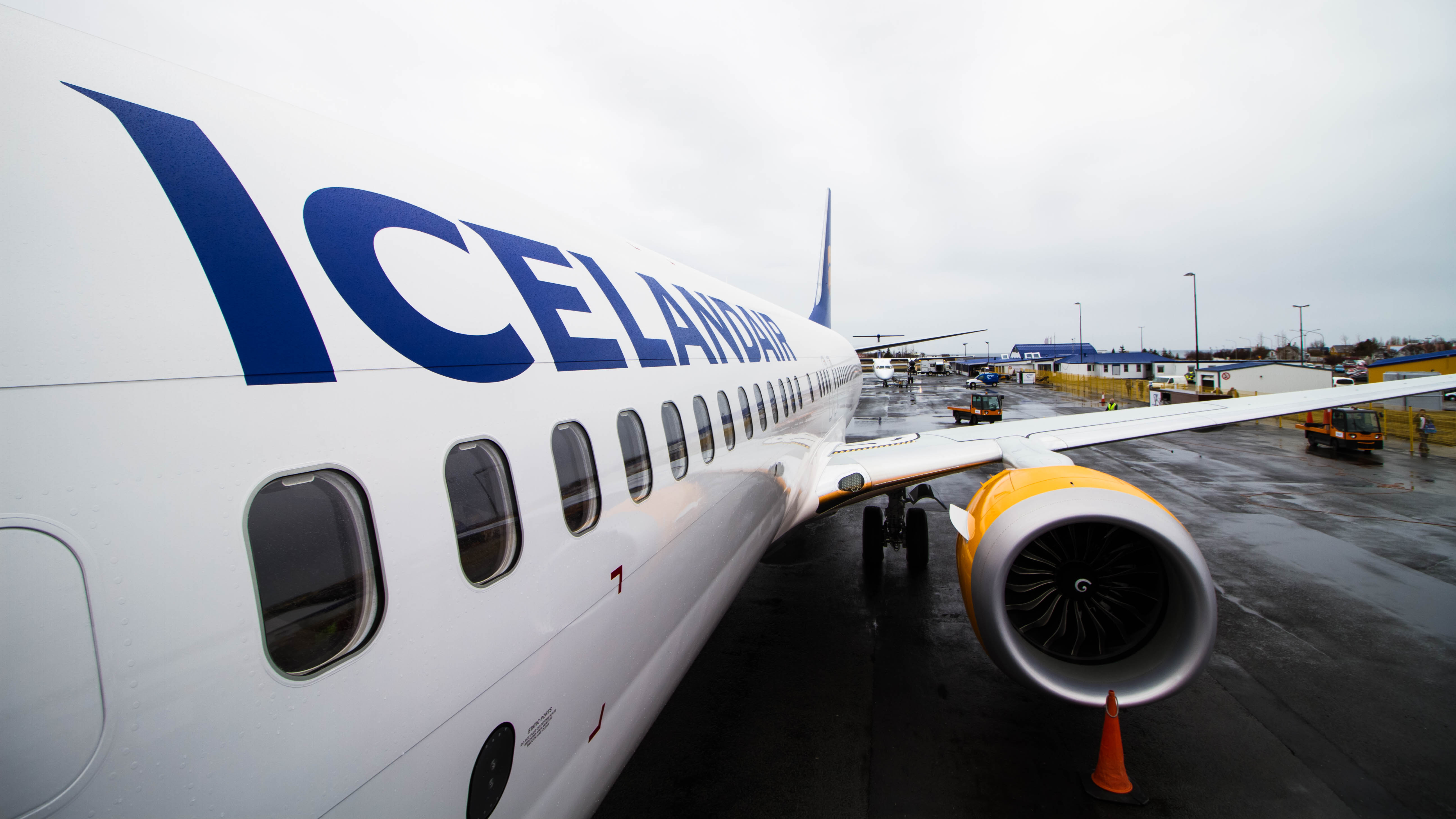 Extending of its fleet is always an additional load for airlines budget, due to a necessity of paying for the new aircraft and increase of operational costs for a bigger fleet. The same time it is a possibility to enlarge profit and increase number of flights. All additional costs an airline essentially will try to recover through tickets price. According to Þórðarson, 737 MAX will not affect prices in a bigger way.
"It is going be a small part of our fleet, so difficult to make a much impact. But, I think the important thing about ticket prices that they are dictated by the market. Rather cost structure of an individual airline dictated by the market. That means that an aircraft like this will probably not directly will impact ticket prices, but it will make us more competitive in the markets, where ticket prices are already quite low" – Jens Þórðarson said.
New aircraft give an opportunity to Icelandair to be more flexible in changing the environment of the market too. There are rumours in Iceland, which meet more and more evidence every month, that tourism sector is slowing down in its growth. For Icelandic airlines, it means that pax flow will slow down too. Jens Þórðarson is quite optimistic about perspectives, saying to Flugblogger that the company is ready for such changes in its capabilities.
"The thing is the Icelandic tourism sector is just one of our sectors. Of course, Icelandair is flying with tourists abroad, it is a key segment, but the major and most important segment is a transatlantic segment. We are split into three markets. First is – Icelanders travelling abroad, that is about 15% of our passengers; passengers travelling to Iceland is about 30%, so passengers travelling transatlantic are 55% of our passengers. It is more than half. There we have the biggest growth opportunities. It is absolutely right [noticed] that tourism was growing fast in Iceland and now it is slow down. So, if there slowing in Icelandic tourism we are variable to add more capacity on transatlantic" – Jens Þórðarson told.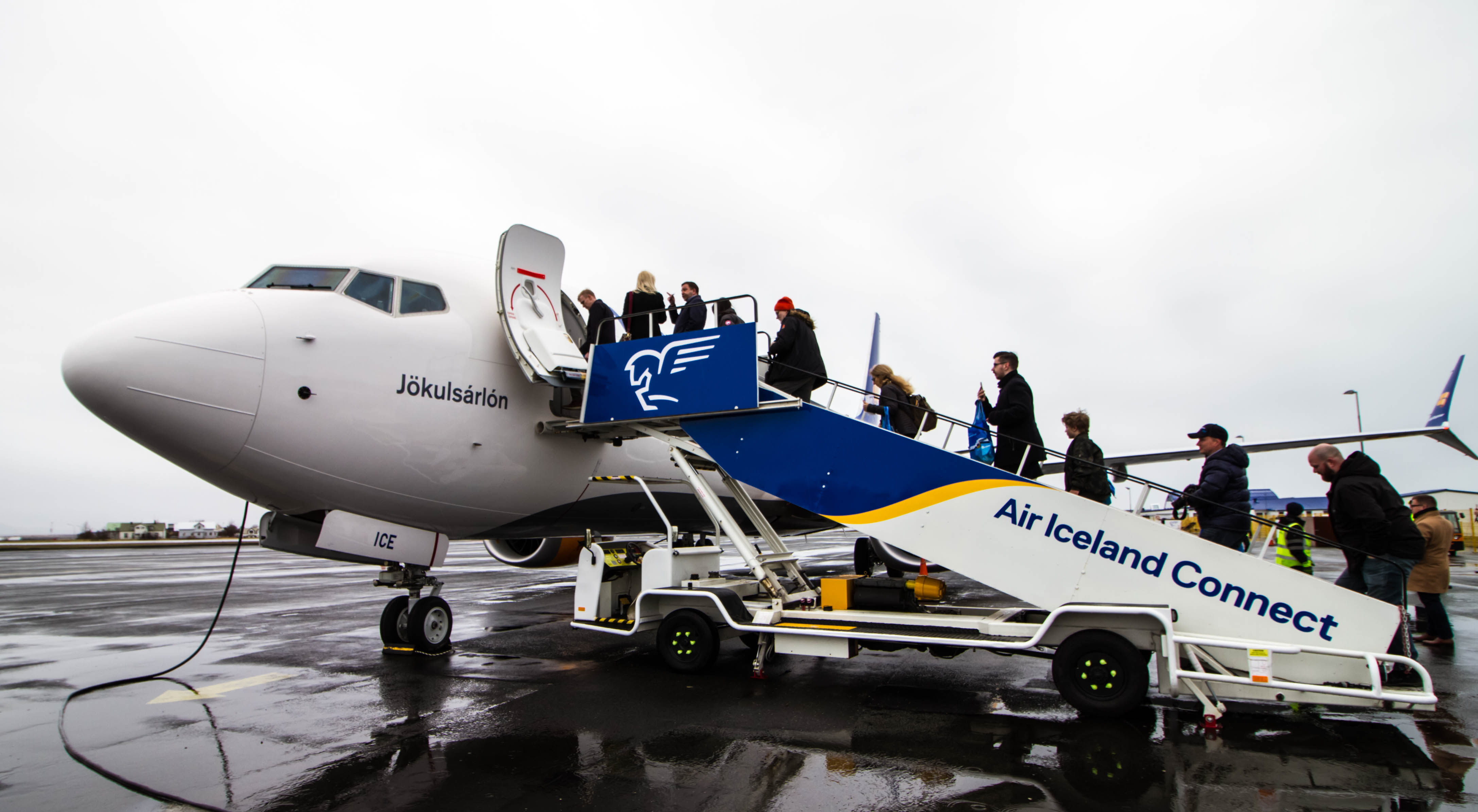 Flexibility is a key factor in Icelandair crew management too, Þórðarson stated. Every summer the airline hire the big amount of pilots with contracts until autumn. During winter, they have to busy themselves, to be ready for the next high season. The similar practice goes with Icelandair cabin crew. It decreased proportionally a bit, but still alive.
"It is because of large seasonality in our operations. Many airlines have 30-40% more flights in summer, we have over 100%. There is nothing to do for [so many] pilots during a winter. This is essentially how we coped with it. The same with cabin crew, but it is easier because their contracts are more flexible" – Jens Þórðarson said.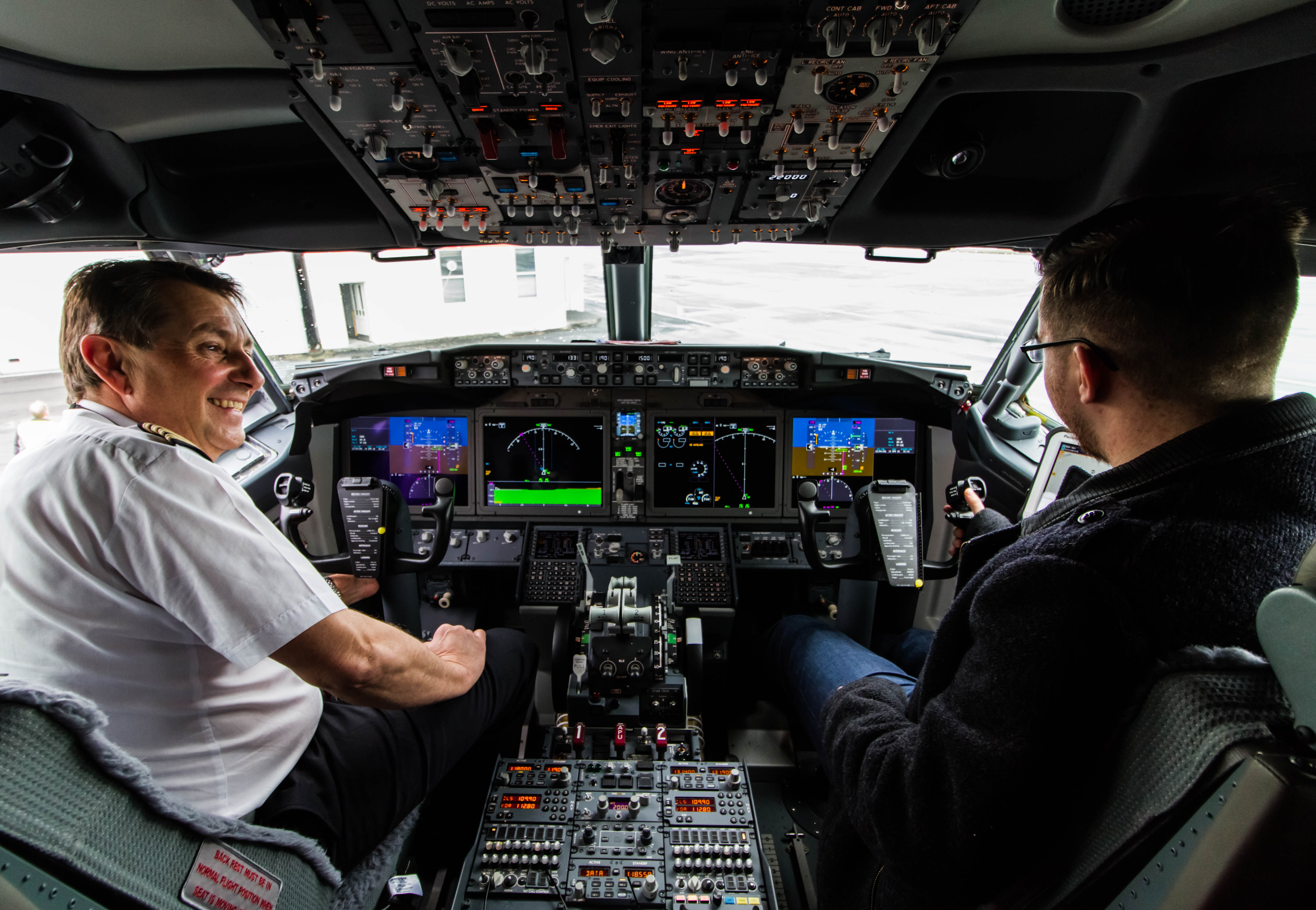 It seems now crew members will have more opportunities to stay with Icelandair all year round as its fleet is expanding. Jens told to Flugblogger that pilots for 737 MAX are transferred from 757 when the airline gives the opportunity to all its pilots to choose which aircraft they want to fly. "Many of our pilots love 757 more, but many love 737 MAXmore, so we tried to give a choice" – Jens Þórðarson said.