A new type of aircraft will be added to Icelandair's fleet in 2024, according to company's presentation for shareholders in Reykjavik earlier this week. According to the plan, the airline will take Boeing 757 out of their fleet gradually during next years. Therefore, 2019 was the year, when there were the biggest number of Boeing 757 in Icelandair's fleet – 26 planes.
The airline's management expects to receive the whole order of Boeing 737 MAX before the end of 2022, therefore there will be 12 planes of this type in their fleet, both 737 MAX 8 and 9.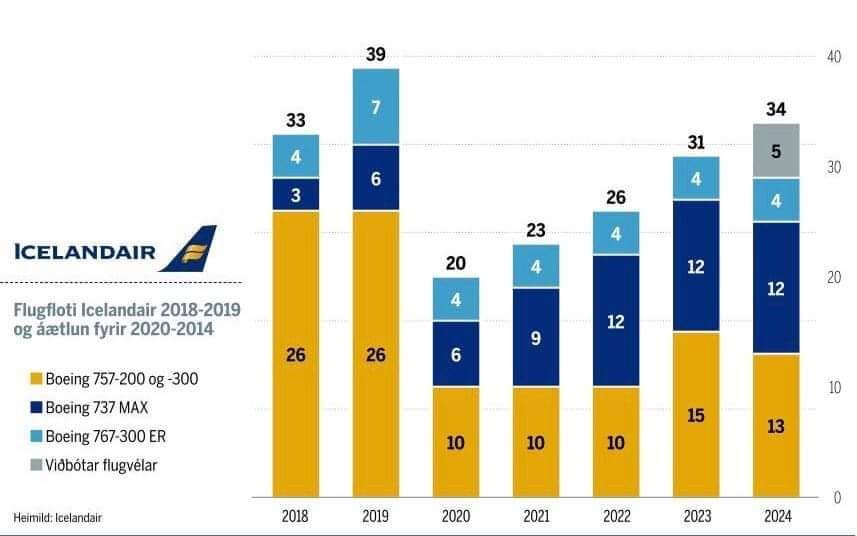 Five new planes of undesignated type are supposed to be added in 2024. Although there is no information about them so far, President and CEO Icelandair Group Bogi Nils Bogason told Flugblogg in January 2020, one of the main future options is a combined airline's fleet, which will include Boeing 737 MAX and Airbus A321LR.
"Since the beginning of 2019, we have been reviewing long term fleet strategy. We still have Boeing 737 MAX and the plan is to operate them. But we are looking for long term replacement of Boeing 757 and Airbus 321LR could be an option there. We are seriously looking into that option and also other options as well", – told Bogi Nils Bogason Flugblogg in January 2020.