Icelandic national carrier Icelandair published traffic data for May 2021, saying they ferried 40 000 passengers. Among them, international travellers are 21 900 passengers. Comparing these numbers to pre-covid traffic data in May 2019, when there were 419 000 passengers, the difference is still more than 10 times.
The load factor on international flights was 35.2% in May 2021 (85,2% in May 2019). Icelandair's representatives emphasize, that in recent months, Icelandair has used Boeing 767 aircraft on several routes instead of smaller aircraft to increase cargo capacity, which in turn negatively impacts the load factor.
The number of passengers on domestic flights was around 18,000 in May. The load factor was 72.3%, compared to 71.1% in May 2020. The capacity of the domestic network has been increasing over the past months and will have reached 2019 levels in June. Passengers travelling to and from Greenland are now categorized as passengers on international flights, following the completion of the integration of Icelandair and regional daughter airline Air Iceland Connect in mid-March.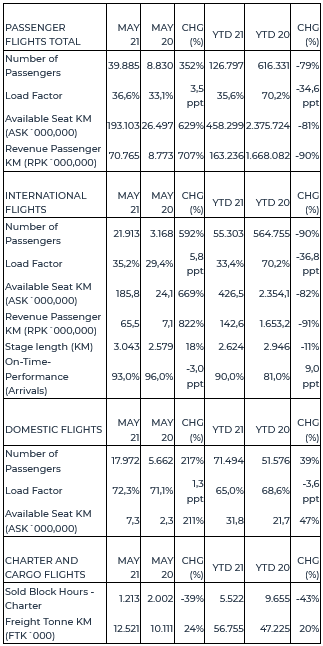 "Travel demand is increasing in line with the progress of vaccinations and the easing of travel restrictions. Icelandair notes considerable interest in Iceland as a destination and is seeing good results of its marketing efforts internationally. Icelandair expects to carry over 30,000 tourists to Iceland in June", said Icelandair's press-release.