Isavia's new summary of the possible number of passengers at Keflavík Airport over the next three years shows that if the most optimistic forecasts come true, more passengers could pass through the airport in 2024 than in 2019, before the Covid-19 pandemic.
More than 7 million passengers passed through the Keflavik international airport in 2019. In 2020 there were only 1.3 million due to the epidemic. Isavia's scenarios assume that it will be around 2.2 million in 2021, in the range of 4-5 million in 2022, 4-6 million in 2023 and then in the range of 5.5 to 7.9 in 2024.
This summary is not an actual passenger forecast as Isavia published annually before the pandemic. The last passenger forecast, for the year 2020, was published at the end of 2019. Since then, there has been complete uncertainty in the aviation world due to Covid and it is impossible to predict anything about developments.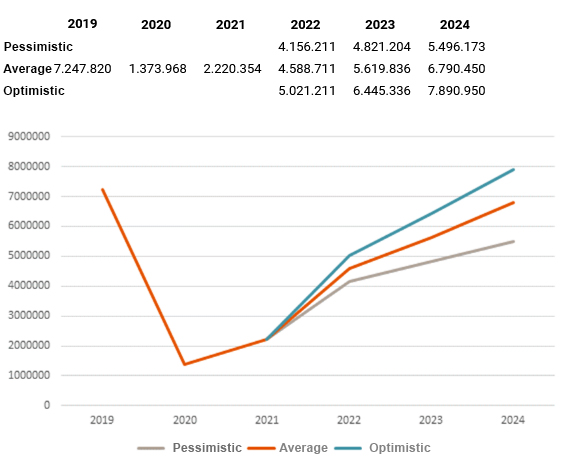 "These scenarios in question are made to make it easier for airport operators to plan in advance and set out possible assumptions," says Isavia Director of Business and Development Guðmundur Daði Rúnarsson, "In making these passenger assumptions we rely on publicly announced plans for airlines flying through Keflavík Airport. "
If the most optimistic forecast for 2024 comes true and there are almost 7.9 million passengers at Keflavík Airport, it would be the third-largest number of passengers who have passed through the airport in one year. There were more passengers in 2017 and 2018.
"It should be borne in mind, however, that little can actually be done to prevent these predictions from coming true," says Guðmundur Daði. "The recovery of air passengers at Keflavík Airport seems to be faster than this summer and autumn. Harsh and ever-changing border control measures deter foreign airlines from the country. This development is a matter of great concern."
Guðmundur Daði points out that the summer has gone well at Keflavík Airport, the recovery has been better than at competing airports elsewhere in the world. "This year, Keflavík Airport has regained 79% of the flights offered in 2019, among them 72% in Copenhagen, 71% in Oslo, 67% in Stockholm and 59% in Helsinki. It is important not to swallow this now that things are going well. "