The number of serviced scheduled flights in the main Icelandic airport Keflavik (ICAO code: BIKF) has decreased 11 times during the month, according to the statistic from flight tracker Flightradar24. One month ago, 27 of February, there were 45 flights serviced from 45 scheduled. On 26 of March, only 4 regular flights were serviced in Keflavik from 48 planned. On the graph, the negative trend has started 13 of March.
The main reason for that is the air travel ban, imposed by the US and many countries in Europe because of the coronavirus. Icelandic national carrier Icelandair, the biggest user of Keflavik, extensively decreased its operations, cancelling up to 75% of its scheduled flights after 20 of March. Later Icelandair dismissed 240 employees, 92% of others were shifted to part-time.
The traffic in Reykjavik capital airport (ICAO code: BIRK) also decreased. According to Flightradar24, on 20 and 22 of March, only one flight was served in the airport from 18 and 15 scheduled flights respectively.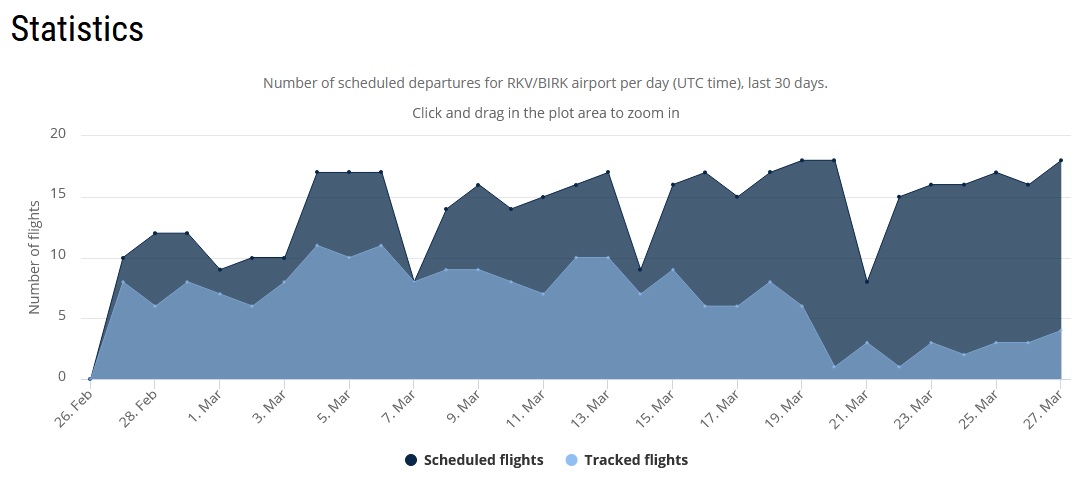 The situation might go worst if the Icelandic government imposes ban for international flights. Last week Icelandic Minister of Foreign Affairs warned it could happen before the end of March.