There are 53 fishing vessels right now are spending the night in the waters around Iceland, experiencing storm conditions, according to ships online tracker Marine Traffic. Storm weather approached Iceland in the Wednesday afternoon 25.November, but the Icelandic Coast Guard helicopters were grounded since midnight.
According to the METAR of Keflavik airport, at 22:00Z the wind there was 36 knots with gusts 52 knots. In Reykjavik airport, the wind is 30 knots with gusts 43 knots. According to forecast, the same weather is expected in Iceland until Friday.
Icelandic Coast Guard helicopters, which usually provided back up for vessels nearby Iceland in case of emergency, are grounded due to mechanic's strike. Aircraft engineer's labour union FVFÍ cannot find an agreement with the government's negotiating committee regarding new contracts for the mechanics since 5.November.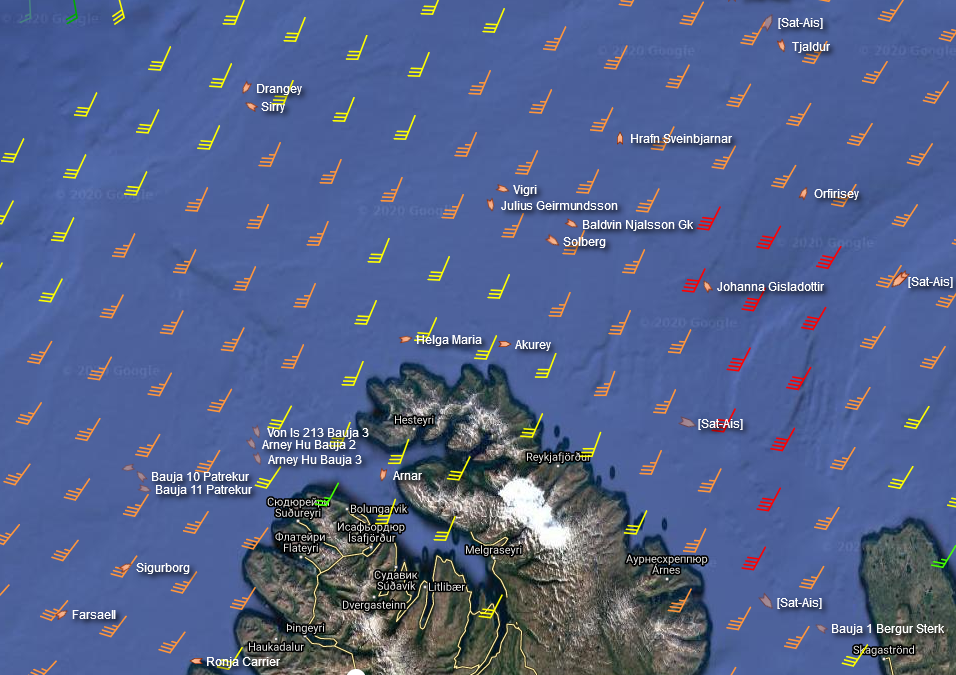 During the strike, two helicopters – owned Aérospatiale AS.332 Super Puma (reg. TF-LIF) and leased Airbus H225 (reg. TF-EIR) – were left without proper technical maintenance and therefore had been to be grounded. Another leased Airbus H225 (reg. TF-GRO) became grounded on midnight 25.November. In case of swift resolution of the issue with contracts, the Icelandic Coast Guard mechanics will need at least two days to perform proper maintenance on one of the helicopters. Therefore, there will be no air support for anyone in Iceland at least until Friday.
In 2019 the Coast Guard responded on about 280 calls and two-thirds of them were due to serious accidents or illness and a third due to rescue operations, Frettablaðið reported. In other situations, the Icelandic government could ask a Ministry of Defence of Denmark to assists, as it happened sometimes previously. However, as Icelandic Coast Guard information officer Ásgeir Erlendsson told Morgunblaðið, they checked the location of the Danish patrol vessels, but they are not inland. "The Coast Guard has an agreement with Denmark and we have often had the helicopters of the Danish patrol ships available when requested, but the situation is that there is no Danish patrol ship near us, so that possibility does not exist now", said Ásgeir Erlendsson.
Erlendsson added that in case of emergency the help will be provided by Icelandic Coast Guards ships and nearby vessels. However, obviously, it would take much more time than with helicopters.
Meanwhile, the negotiations of the government and labour union are far from the end. The state mediator Aðalsteinn Leifsson told RÚV in the evening 25.November: "The situation in this discussion is grave and the talks are heavy and difficult. I had been in close contact with the chairmen of both negotiating committees and felt there was a reason for us all to meet in one room because this will not work unless we all work together and find solutions. This is a very heavy and twisted dispute." The negotiations will be continued in the morning 26.November.