Icelandair Boeing 767-300 TF-ISN has departed from Keflavik to Cape Town, where the plane will refuel on its way to Antarctica, as ICE1010 today, 24.February, at 18:09UTC . This is the first flight of Icelandair to the South Pole since 2015 when Icelandair Loftleiðir Boeing 757-200 landed at the Union Glacier Camp as Adventure Network International (ANI) explored the feasibility of using such an aircraft to support its future activities. This time Boeing 767 will deliver the crew of the research center Troll, which is owned and operated by the Norwegian Polar Institute (NPI). It is located in the eastern part of Antarctica on the Princess Martha Coast in an area named after Maud, the former Queen of Norway. Princess Martha Coast was the first portion of the Antarctic mainland discovered by a human, Fabian von Bellingshausen and Mikhail Lazarev in 1820.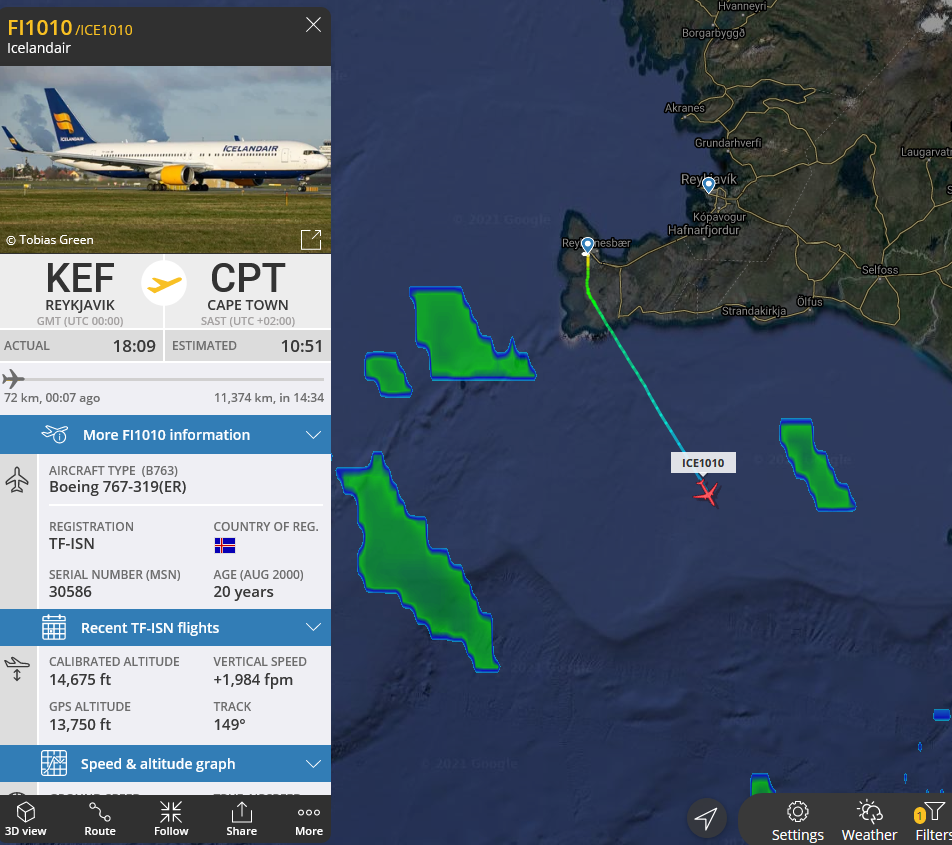 Icelandair's information officer Ásdís Ýr Pétursdóttir told Morgunblaðið, a total of 20 Icelandair crew will be on the flight; six pilots, 13 flight attendants, and one flight engineer. She says there is a lot of preparation for the trip, as the conditions are special in many ways. The project also generates important revenue for Icelandair, which is useful now that traditional passenger flights are at a minimum.
The first ever landing of Boeing 767 in Antarctica had happened not so long time ago. In November, 2019 Titan Airways performed a mini-series of six flights between Cape Town and Novolazarevskaya, a Russian Antarctic research station, on behalf Antarctic Logistics Centre International.
Landings in Antarctica are unique due to special type of runways. They are classed as 'Blue Ice' and are constructed purely by cutting grooves into the ice to provide the friction for aircraft to land.