The volcano eruption near the mountain Fagradalsfjall less than 20 km from Keflavik at first concerned Icelandic aviators as a potential threat to all flights. The expected aftermath of the appearance of the lava so close to the airport would be the cancellation of all flights due to volcanic ash and plume, which is dangerous for tender aircraft engines. Turned out they were worrying too much. Moreover, the eruption became lucrative for Icelandic aviators, who established regular flights to the site. Eventually, because of the dozens of scenic flights, Reykjavik's capital airport (ICAO: BIRK) became the busiest airport in Iceland, overtaking the main international gate Keflavik (ICAO: BIKF) the first time for many years.
The crack at the bottom of the valley near Fagradalsfjall had opened at 20:40 on 19.March. The first plane above the firing lava was Beechcraft King Air B200 reg. TF-FMS of the national airport operator and ATC provider Isavia with scientists on board. They stated the eruption is relatively small and safe. Two weeks before, preparing for the eruption, Isavia established a new VFR route from Reykjavik to the BIR2 dangerous area, which covers the seismic active zone. The first commercial flight on this route was performed less than 14 hours after the eruption had started.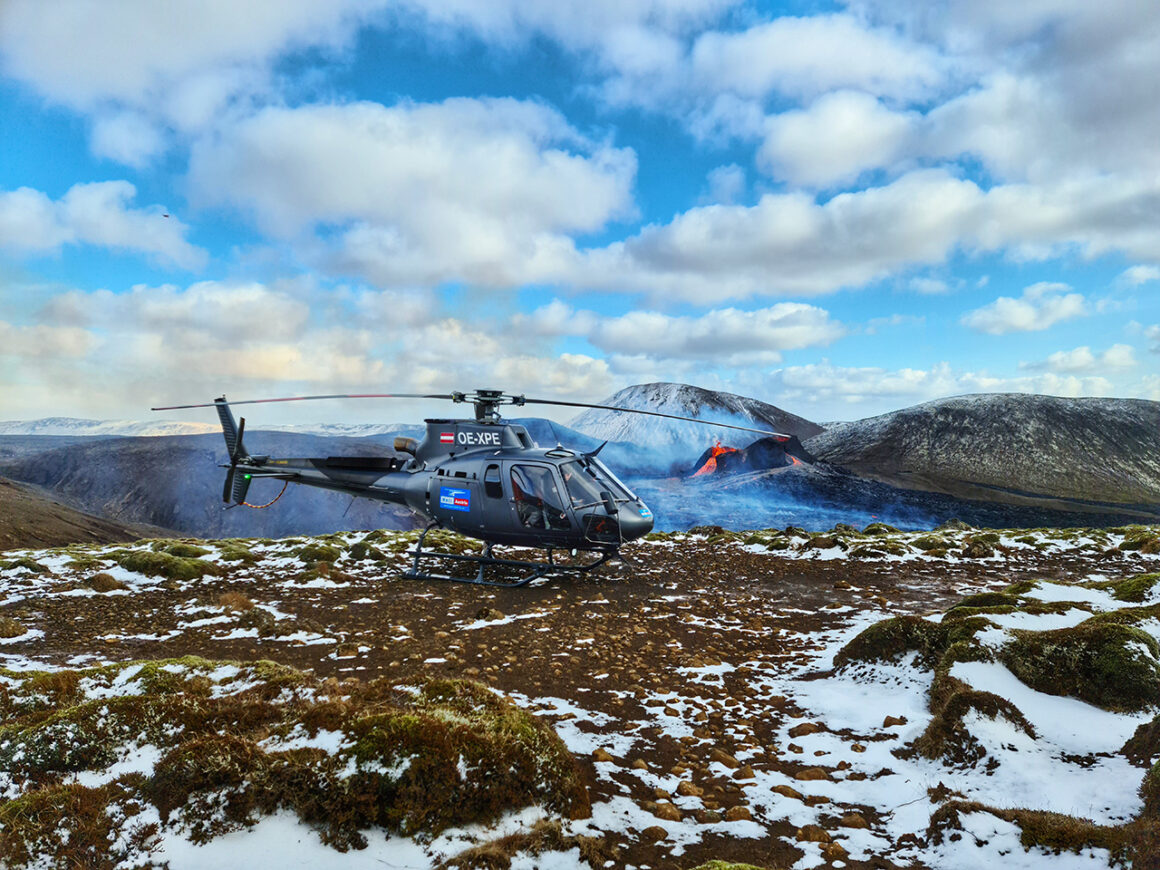 "We started [to fly to the eruption with tourists] when the area was open 12:00 on Saturday [20.March]", Heli Austria Iceland pilot Gísli Gíslason told Flugblogg. There are two Airbus H125 in their fleet (registrations OE-XME and OE-XPE) with a capacity of up to five passengers each. Heli Austria Iceland offers flights to the volcano for ISK50 000 (USD390, Euro 335, converted by Íslandsbanki) per person for the flight from Reykjavik and 30 minutes full stop landing near the eruption. "We have been busy since it started. We did few trips and now have a long waiting list to go for a flight", said Gísli Gíslason.
Another company that started to fly the next day after the eruption is Flugfélag Austurlands. They operate the only Cessna 172N with registration TF-KLO and mostly fly tours in the Eastern part of Iceland. The company offers 30 minutes flights from Reykjavik for ISK60 000 per flight (USD470, Euro 402, converted by Íslandsbanki). The owner of Flugfélag Austurlands Kári Kárason told Flugblogg, between 20 and 25 of March they performed 12 flights: 2 scientific research flights and 10 flight tours. Therefore totally they flew with 34 passengers. "The busiest day for us was 23.March", said Kári Kárason.
The volcano eruption made an impact on the operations of the regional airline from the north of Iceland Norlandair, which has dispatched one of its aircraft to Reykjavik at the beginning of the week. Flight Operations Manager of Norlandair Steindór Kristinn Jónsson told Flugblogg that they did three flights in cooperation with flight tours operator Circle Air, which offers flights to Fagradalsfjall for ISK37 000 per person (USD290, Euro 250, converted by Íslandsbanki). The owner of Circle Air Thorvaldur Ludvik Sigurjonsson revealed the details for Flugblogg: "We operated mostly in the north of Iceland, but still we transported a planeload of people to the eruption and then did three runs out of Reykjavik, before going back. The total number of passengers transported on Tuesday [23.March] was 40. Given that the eruption will persist, we´ll add more capacity from Reykjavik, but up until now we have deployed the only Twin Otter with registration TF-NLC." This plane can take on board up to 19 passengers.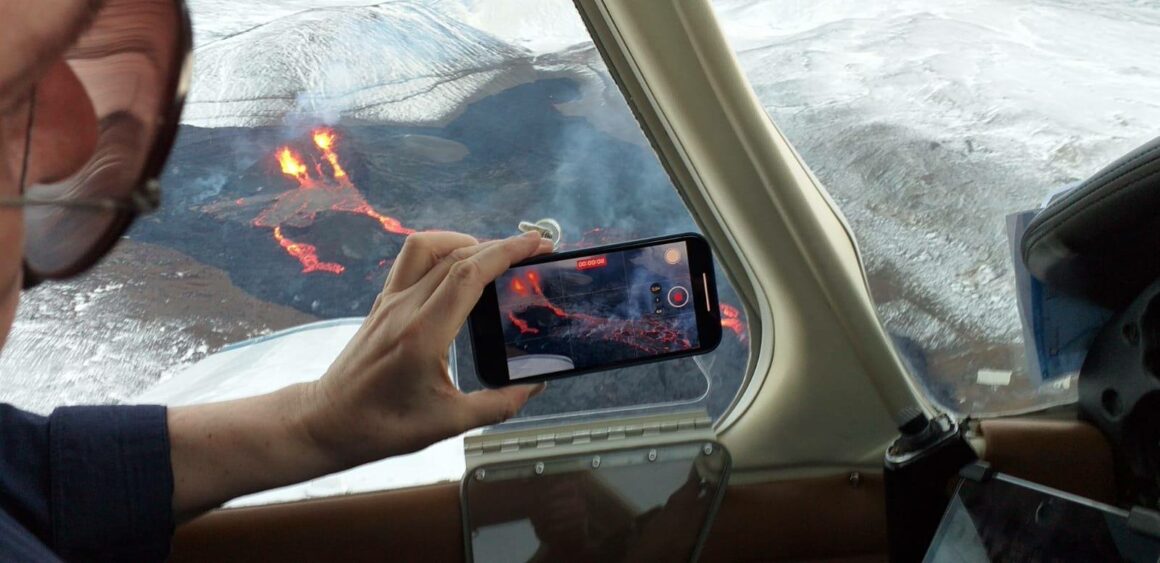 The next company, who joined the volcano eruption feast was Atlantsflug. They offer flights to the Fagradalsfjall for ISK26.900 per person for adults (USD210, Euro 180, converted by Íslandsbanki) and for ISK20 175 per person for 12 years old or younger kids (USD160, Euro 135, converted by Íslandsbanki). The Office Manager of Atlantsflug Guðný Lára Jónsdóttir told Flugblogg, they operate the only plane for this tours, which is Piper Navajo with the tail registration TF-JSG with seats for seven passengers. The plane has arrived in Reykjavik on 24.March. "On a good day, we should be able to fly with around 50 people to see the eruption", said Guðný Lára Jónsdóttir.
And there are more companies, who offer flights to the eruption. Nordðurflug website says, they "are flying on two helicopters, 5 and 6 seater and it depends on the booking status each day which aircraft we are using". Price per person is ISK44 400 for adults (USD350, Euro 300, converted by Íslandsbanki) and ISK33 300 for children between 2-12 years (USD260, Euro 225, converted by Íslandsbanki). Helicopter Service of Iceland "Helo" operates Bell 407 with registration TF-HHH, which can take on board up to six passengers. The price is ISK44 500 per person (USD350, Euro 300, converted by Íslandsbanki) or ISK267 000 (USD2 100, Euro 1 800, converted by Íslandsbanki) if a customer wants to book the whole cabin. The regional airline Eagle Air (Flugfélagið Ernir) dispatched to volcano flights one of its BAE Jet Stream 32, which can take on board up to 19 passengers. They offered flights for ISK35 000 per person (USD275, Euro 235, converted by Íslandsbanki).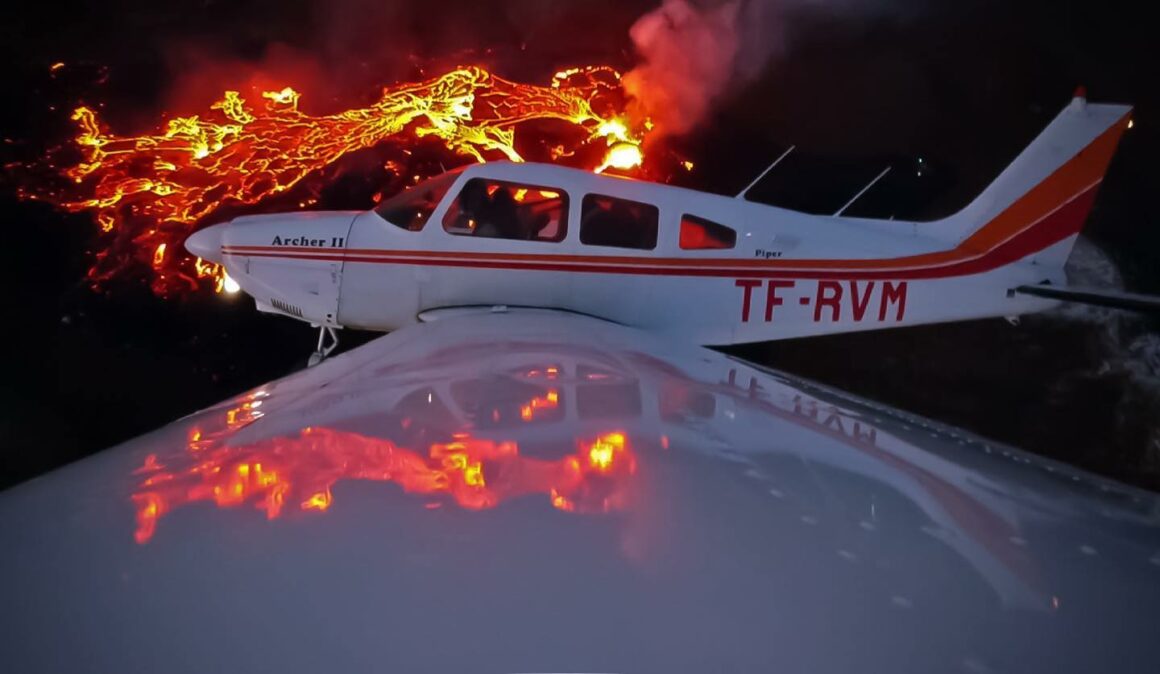 Those who relate to aviation in Iceland tried to fly their own way, using contacts in Reykjavik aeroclubs. The offer through these unofficial channels is from ISK6 500 to ISK25 000 per person (from USD50 to USD195, from Euro 45 to Euro 170, respectively, converted by Íslandsbanki). The demand was so high that private pilots started to make long waiting lists during the first days after the eruption. Later the state regulator ICETRA even had to emphasize that all general aviation flights have to be established in the terms of shared cost, where every person on board should contribute money for the flight.
This festival of new opportunities for Icelandic flight tour operators eventually almost ended on 25.March when Icelandic Directorate of Healthcare presented new anti-COVID measures for the next three weeks, following the increase of domestic cases. Among others, study flights became prohibited and there were concerns that leisure flights will be banned too. However, none of the commercial airlines is going to stop flight tours. "We didn't do any flights 25 of March, while we were figuring out how we would operate and if it would be ok and if we could do anything better than we were already doing, everyone with mask and we recommend gloves, then we do cleaning after every trip," said Gísli Gíslason. Similar attitude in Atlantsflug. "We have not had to cancel any flights due to the new anti-COVID measures, our airplane has room for 8 persons, including the pilot so we are within the limits. We will, of course, be cleaning the aircraft after each tour and follow all guidelines to secure the safety of our passengers and staff," said Guðný Lára Jónsdóttir.
The increase of COVID cases so far affected only one airline, which flew to Fagradalsfjall. On 26.March Eagle Air stated they will cancel flights for the next five days because of the infection in their office: "Despite extensive and good infection control within the company, one infection crept in through our door, which put most of our employees in quarantine. Due to this, we have had to cancel all our flights from today March 26th until Tuesday, March 30th. We aim to resume flights on schedule on Wednesday 31 March. We are working to contact everyone who had booked a flight to find out about the situation."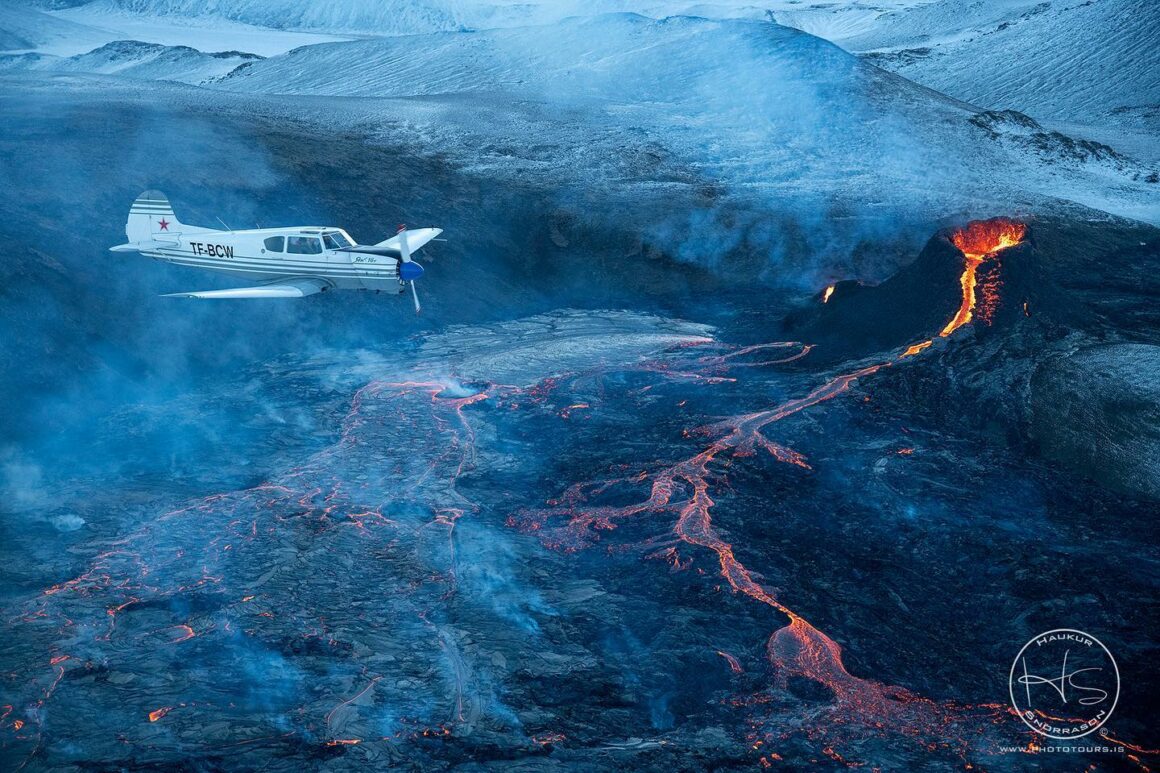 According to Kári Kárason, Flugfélag Austurlands was not affected by the new measures because the company was going to pause flights to the volcano for time being. "We had planned the aircraft for another mission from 25 March until 15 April. Hopefully, the restrictions will have been lifted and the eruption on-going," said Kári Kárason.
His hopes are highly supported by all flight tour operators. Among them is the CEO of Reykjavik Helicopters Friðgeir Guðjónsson: "We are actually not flying to the eruption site yet since our whole fleet is down on big maintenance. It will not be ready until late April." Same as other flight tour operators, Fridgeir Gudjonsson expects the eruption will last for a longer period. Right now Icelandic volcanologists struggle to assume for how long the volcano will go, naming periods from several weeks to several years. According to scientists, there is another strong earthquake needed to shut the crack and stop lava to erupt, but nobody knows when it will happen.