The new VFR route will be established for scenic flights, departing from Reykjavik's capital airport (ICAO: BIRK) to the site of the volcanic eruption near the mountain Fagradalsfjall. The route was introduced in NOTAM A0156, which stated that flights entering BIR2 dangerous area, which covers the eruption site, may expect to fly route 6A, but exiting traffic might be directed through the new route 6B. The changes are not published in the AIP yet, updated AIC is expected on 6.April 2021.
"Due to an on-going volcanic eruption at Krysvik, the Icelandic transport authority, in cooperation with Isavia ANS, has decided on a plan to be followed to maintain the safety of flight within the area, to facilitate the flow of traffic and from BIR2 and BIRK, a new VFR route named 6B has been added between Keilir and Kvartmila", – says the NOTAM.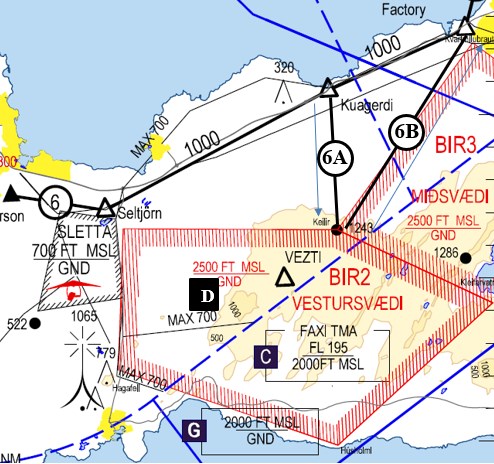 The previous VFR route 6A, which connects Reykjavik with the eruption site, was introduced at the beginning of March 2021. Since then ATC experienced heavy traffic in this area. The limit of six aircraft over eruption was established, later extended to eight aircraft.