Icelandic virtual airline Niceair could not deliver passengers from Stansted airport, London, UK (ICAO: EGSS) to their home base in Akureyri (ICAO: BIAR), MBL reported. Passengers from that flight were re-booked to another airline, flying to Iceland. The disruption in the schedule happened on the next day after the inaugural flight of Niceair, which was performed on the 2 June from Akureyri to Copenhagen (ICAO: EKCH).
In conversation with Flugblogg, Niceair CEO Thorvaldur Ludvik Sigurjonsson said the reasons for the delay of the departure from Stansted were unclear and the airline is still seeking an explanation from the CAA. "The flight was never cancelled. We have slots agreed and came in on an approved flight plan and executed everything correctly. It was something else and unclear to us since we have received nothing formal as of yet", Thorvaldur Ludvik Sigurjonsson told Flugblogg, explaining why they decided to send Niceair's passengers with another airline, "The conversation with the UK official yielded nothing formal or made any progress in solving the problem. That is why we decided to send our pax home with a different carrier to minimise their disruption."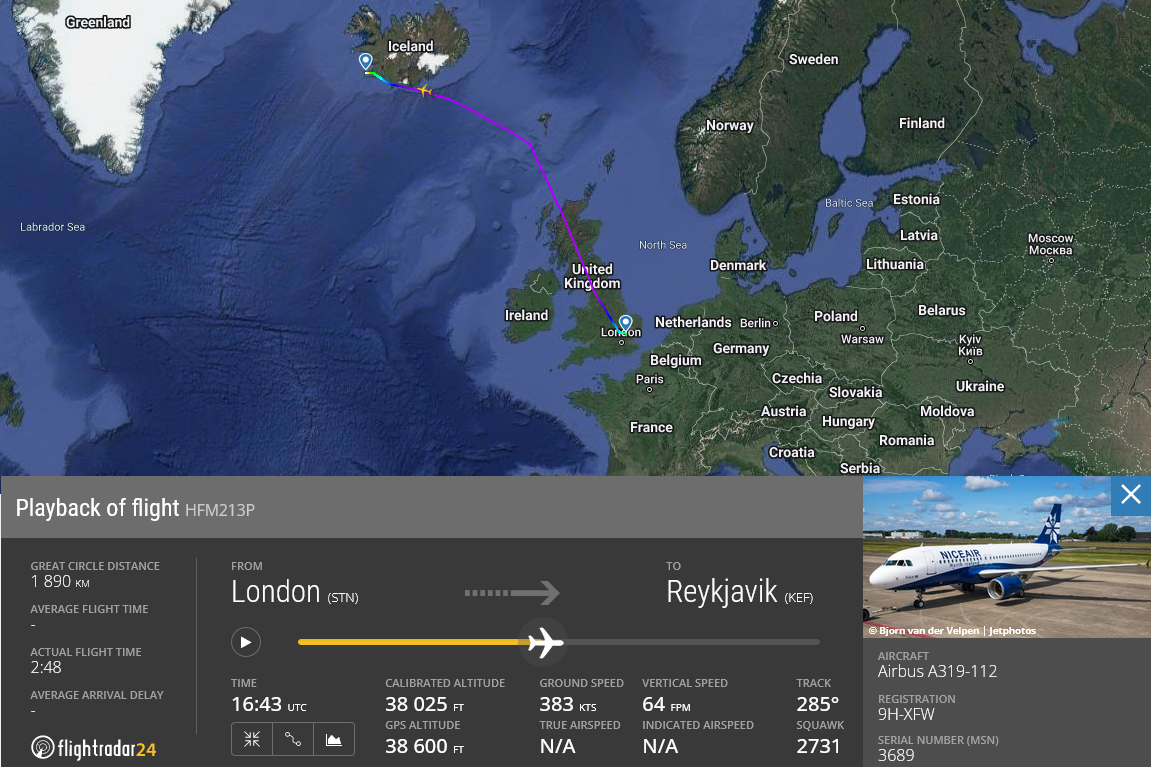 The new Icelandic virtual airline Niceair started flights from Akureyri on 2 June, connecting the unofficial capital of the northern part of Iceland with Copenhagen, London, and Tenerife. All flights are performed on the only wet-leased HiFly Airbus A319 9H-XFW. Flugblogg reported about the phenomena in details earlier.
Thorvaldur Sigurjonsson believes that today's disruption is one of the issues, which appear during the early stages of new projects. "We are seeking explanations from the UK authorities. This is a teething problem I believe. All will sort itself", said Sigurjonsson.
The same day Stansted and Manchester disappeared as a destinations for booking tickets on the Niceair website.
Update on 5 June: British destinations came back for booking on Niceair website. The issue was related to the permission for HiFly Malta to perform flights to and from UK with passengers and resolved.