Icelandic airports continue to experience a decrease in traffic due to slowdown in the tourism sector, which was the consequence of WOW air bankruptcy. The national airport operator Isavia reported, that all four main airports in the country (Keflavik, Reykjavik, Akureyri and Egillstaðir) served fewer passengers in January 2020 than one year before.
Keflavik airport (ICAO: BIKF) experienced lost 0f 29,8% per cent of traffic, serving 375 723 passengers, compared to 535 210 in January 2019 (read more about it here). Reykjavik capital airport (ICAO: BIRK) served 20 424 passengers, compared to 23 622 in January previous year, therefore the difference is minus 13,5 per cent.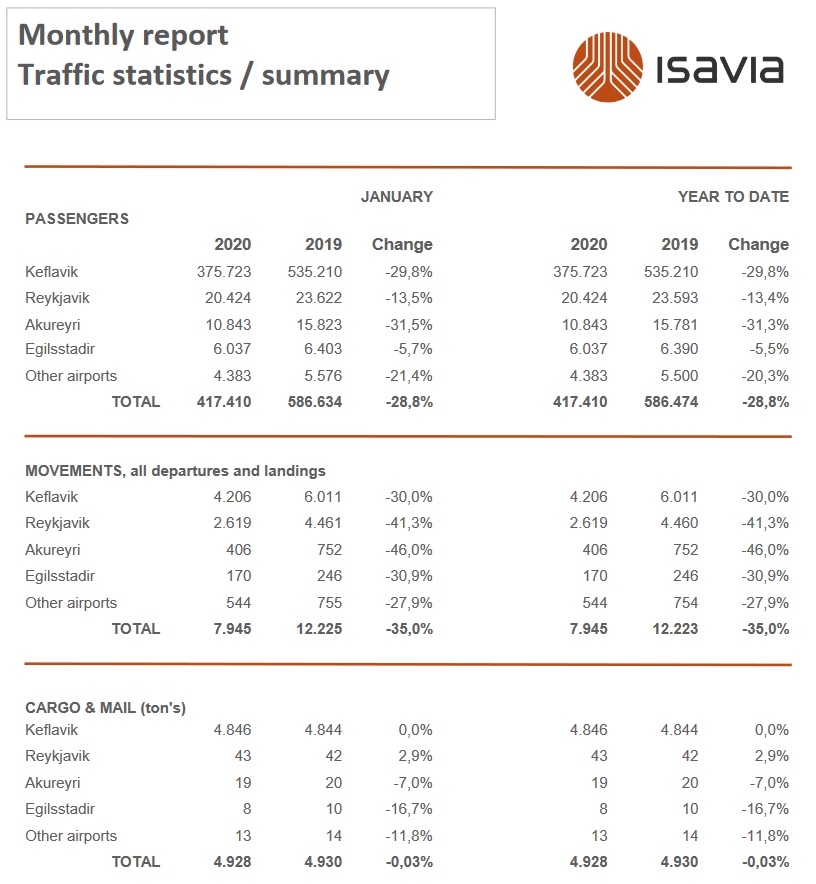 The airport in Akureyri (ICAO: BIAR) has experienced the biggest difference between the years. In January 2020 only 10 843 passengers went through the airport, compared to 15 823 in one year before, therefore the difference is minus 31,5 per cent. Egillstaðir (ICAO: BIEG) has a minimal negative difference, losing just 5,7 per cent of passengers (6 037 in Jan.2020 to 6 403 in Jan. 2019).
Meanwhile, the biggest regional airline in Iceland – Air Iceland Connect (a subsidiary of Icelandair) – reported about 75 per cent of occupied seats in January 2020. In January 2019 this indicator was a bit below 64 per cent. The whole number of Air Iceland Connect passengers in January 2020 is 16 451 people, in January 2019 it was 19 569 passengers. Air Iceland Connect reduced its fleet since then.