What if Iceland is your dreamland, but also you are a pilot? Oleg Savashinsky answered to this question, crossing Europe and vast water areas of the North Atlantic by own single-engine aircraft. He told to the Flugblogger how he planned the route over the ocean, considering the probability of emergency landing, how he first saw the land in the Atlantic and about special impressions from Iceland, which are not mentioned in guidebooks.
Creating the dream
Oleg lives in Belarus. It is a small country in Eastern Europe, a former part of USSR, between Poland and Russia. Its territory is only twice as large as Iceland. Belarus has a beautiful forest and wide green fields, but no volcanoes or geysers. It has its own mystical creatures, but no elves or trolls. It is situated in the middle of the continent and has no access to a sea, in opposite to Iceland, which is surrounded by ocean.
He told that his decision to fly to Iceland was formed by "effect of a butterfly", means by a chain of occasions. Five years ago, Oleg met a map of a small island in the middle of Atlantic, which is different from Belarus in all ways. It came to his hands, along with a detailed guide describing the journey of Michael Levy in this country. Oleg read it fully and was much impressed by Levy's trip notes.
"There were also photographs made by the author in the guide. I watched them all, and the dream was formed in my head: "I want to go there", Oleg said.
He lived with this idea throughout the years until he decided to stop dreaming about Iceland. "I told myself like in advertising: "Enough to dream, time to do it", remembered Oleg. He called his friend Denis for the adventure and started to prepare everything.
The wings, which should deliver him to Iceland, were Diamond DA40 XL Diamond Star (reg. EW-414LL). According to open sources, this model from 2007 demands only one pilot in its crew and can carry three passengers.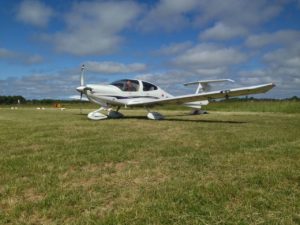 DA40XL has only 795 kg of empty weight and up to 403 kg useful load. Air-cooled 4-cylinder horizontally-opposed piston engine Lycoming IO-360-M1A has 180 hp, which allows planing fly up to 16400 ft with speed 150 km. Range of the aircraft is 720 nm (~1300 km). The model also has "glass cockpit" Garmin G1000 set for IFR flights.
Preflight check
Belarus is not a member of the European Union and the Schengen area. It means tourists from this country have to obtain special visas to go inside any Schengen country, and bureaucracy could fight hard. In spite of this, according to Oleg, he did not have any big problems with drawing up the necessary documents for the plane and the crew.
"The only permit I issued was permission to fly to Iceland and back across the ocean on a single-engine aircraft, it is mentioned in AIP Iceland. But no one asked me about this permission either at the airport of landing or at the airport of departure," Oleg told. It took him about a month to issue a permit. To do this, he sent the intended flight route and a copy of the aviation documents, after which phoned them two or three times.
"Waiting is a difficult job for me, and, at the lowest point, I was ready to leave my adventure and continue only dreaming about Iceland"
"I was told that the case is being considered and I have to wait. Waiting is a difficult job for me, and, at the lowest point, I was ready to leave my adventure and continue only dreaming about Iceland. The answer came about a month after the request, it said that I'm allowed to fly there and back in a period of two months, starting from a certain date," Oleg told.
During the preparation of the flight, he changed the route several times and sent it for coordination. All subsequent approvals passed within 24 hours, and the text of the previous resolution added approximately the following: "and this route you can fly, too." Another necessary document is insurance. Oleg has it for the whole world.
In anticipation of the necessary permission, Oleg continued to actively prepare for the flight. "I read the history of flights of other pilots, incidentally compiled a list of necessary equipment, checked it with Iceland's AIP and placed orders on the Internet. It was a pleasure for me because I'm a shopaholic," Oleg said. Thus, the list included: an inflatable boat, a waterproof suit, a personal radio beacon, a water desalter and bio-toilets.
In the evenings, Oleg twisted the Google Earth globe, trying to find a suitable route for his plane with crowded sights. As a result, he decided to fly this way: Grodno (Belarus) – Kalmar (Sweden) – Bergen (Norway) – possibly Wick (Scotland) – Vagar (Faroe Islands) – Reykjavik (Iceland).
"I planned my flight using www.autorouter.aero. This is a unique free resource for planning IFR flights, from which VFR pilots can also get a lot of useful. Information about the weather in the flight I received using a service at ing-golze.de. This is the only way for me to get meteorological information on the route in the air in the European region," Oleg said.
Departing towards adventures
Summer morning two men and one plane departed from Belarusian airfield toward North-West. The first leg was not complicated, but later the weather made its own adjustments. Surprises have already begun on the border of the Schengen area, at the Swedish airport Kalmar (ICAO: ESMQ). It has two crossed asphalted runways: 05/23 length is 664 meters, 16/34 – 2050 meters.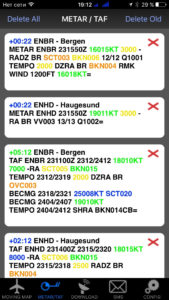 "We spent three hours there, waiting for the right weather to fly to Bergen. In our video, you can see the conditions in which we landed in Bergen. All the hard work during the approach, which a pilot could be proud of, was done by my autopilot," Oleg remembered.
Bergen is a big airport, actually second in Norway after Oslo. It has only one asphalted runway 17/35 equipped with ILS CAT1. There Oleg and Denis finished the first day of their trip.
Next morning came with a difficult choice: to fly right through the ocean or to make a stop in northern Scotland? Refuelling in the Scottish Wick would allow Oleg to fly to Egilsstaðir if Vagar is closed due to bad weather. Oleg decided not to take risks.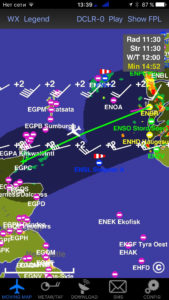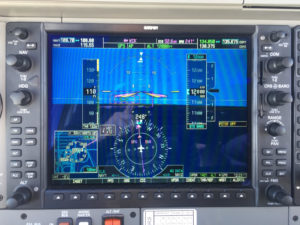 Despite the choice of a safer option, this part of the route added scary emotions to the trip. Wick Airport (ICAO: EGPC) is situated in the northeastern tip of the Scottish part of UK main island. It has grooved asphalted runway 13/31.
"The weather in Wick was sunny, but the strong crosswind decently raised my adrenaline level. However, the landing was soft and tidy, and I added it to my small list of landings that I could be proud of," Oleg said.
Once on the ground, he checked the weather report for Vagar and Egilsstaðir. According to METARs and TAFs, sunny weather with a strong wind expected in both places. However, exciting from landing with a crosswind forced Oleg to decide to spend the night in Scotland. The problem was, we did not have a visa for the UK, so Belarusian crew asked themselves what to do. "Then something incredible for us, Belarusians, happened. We were allowed to spend the night without a visa!" Oleg remembered how he was surprised.
Over the ocean
The plan for the next day was simple: fly to Vagar and take a walk around the island. The problem, again, was in the absence of the required visa. Reserve option: fast refuelling and flight to Iceland.
Vágar Airport (ICAO: EKVG) is the only airport in the Faroe Islands. It has one asphalted 1800 meters length runway 12/30 with the tricky approach. Standard ILS available only for runway 30 and there is offset localizer for runway 12.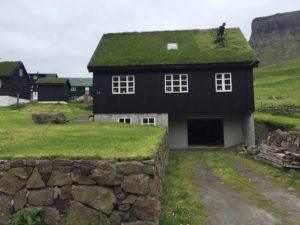 "After landing, we went to the airport terminal, where we were asked to fill out a declaration for the arrival of the plane. Also, we were asked if there were not too many alcohols in our plane. Then a miracle happened in the second time – we again were allowed to stay without a visa. We spent there two days and three nights, after which I can only say that these islands definitely should be on the list of places that you need to visit in your life," Oleg said.
Finally, they took-off with a heading to Reykjavik (ICAO: BIRK). The eastern shore of Iceland they saw from about 180 kilometres away. "I remember how I said: "It seems to be the land". Denis took the binoculars. "It's a glacier, it's a glacier!" he shouted, overwhelmed with the joy of discovery," described Oleg.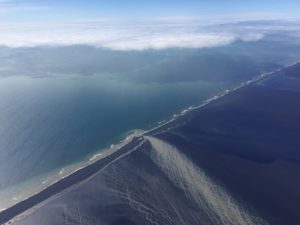 A few hours later they landed in Reykjavik, where they were met by an unexpectedly bright sun. After paying the necessary fees, they went to the parking lot, where the president of AOPA-Iceland Haraldur Diego met them. "He hospitably offered to give us a ride to the hotel, and we, of course, agreed," Oleg said.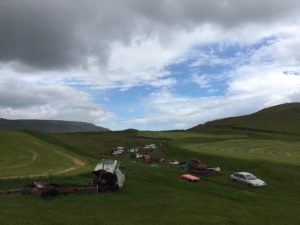 Oleg and Denis also met pilot Ingþór Guðmundsson, who told them stories about local area and traditions. "When we saw a heap of scrap metal on the field, he said that there is such a tradition – Icelandic farmers collect old cars, pulling them to their site. When we saw the sheep, he talked about how farmers find them before winter. When we flew over the north-western part of Iceland, he showed us part of the country that is uninhabited," Oleg told.
Across the Iceland in two flights
Most pilots are excited about dangerous airports with a challenging approach. In terms of Iceland, it means, that the main airport after Reykjavik is Ísafjörður (ICAO: BIIS). It is situated in West Fjords and has 1400 meters length asphalted runway 08/26. The airport was mentioned several times as one of the most dangerous because of its visual approach between two 1,000 feet mountains and extremely narrow U-turn just before the final of runway 08. So, no surprise it became the first destination for Oleg's crew.
"We approached the runway 26. The peculiarity of this approach is that shortly before the lineup it is necessary to make a sharp turn to the right about at 30 degrees. The difficulty of approaching runway 08 is that you first go back course, and then in a limited space turn around 180 degrees. For the plane of my category, it is not very difficult, although it requires a certain concentration. If a high-speed aircraft performs this approach, then there is something to see," said Oleg.
In the airport, they met a flock of seagulls that aggressively defended their nests from aircraft and people
In the city, Oleg liked most of the entire restaurant near the pier. Oleg believes that there "seems, the world's tastiest fish".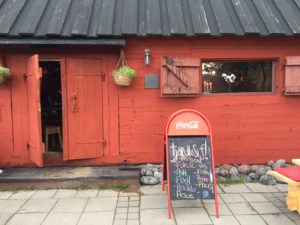 The second flight to the Icelandic airport happened already on the way back from Reykjavik with a landing in Egilsstaðir. This is the biggest airport in the east of Iceland with the only 2000 meters length asphalted runway 04/22. The airport is situated in the beautiful valley between the mountain on the east and river Lagarfljót on the west. In this area, Oleg was surprised by the landscape from the air: "It's as if you first looked at the object under a microscope, and then from a comfortable distance. And it can not be said that it's better, it's just different."
After Egilsstaðir Oleg decided to cross the North Atlantic by one flight – immediately to Bergen. It was supported by a small tailwind during the main route and conditions for a visual approach at the Norwegian airport. The danger lay in wait for them at the last stage of the flight outside the Schengen area, when the journey was almost complete.
"According to the forecast, thunderstorms were expected in the second half of the day, we flew very early, trying to reach our destination before the formation of thunderstorm foci, but we were unlucky, we met with thunderstorms in the area of ​​Lithuania, and we had to bypass them. Firstly, under normal conditions, I planned to arrive in Grodno with a reserve fuel balance of 45 minutes. Secondly, there was Russian airspace near, which is not so easy for entering as to Scotland or the Faroe Islands. I saw in the clouds one suitable, in my opinion, corridor and decided to try using it for flying to Grodno if there freely beyond the clouds. My second option turned to Kaunas in Lithuania, if I observe questionable conditions. As a result, we were lucky, and we landed in Grodno," said Oleg.
Impressions over expectations
Between the flights to Ísafjörður and Egilsstaðir Oleg and Denis went for a two-week journey around Iceland by car, length of about 3,500 kilometres. Oleg's dream became true and the reality was better than his expectations.
According to Oleg, during the trip, many things surprised him. "Sometimes it's something that is not mentioned in any guidebook, and it surprises only you. For example, an organist in Hallgrímskirkja. Previously, when I heard an organ, the musician was somewhere behind the scenes. This time he was in the centre of the hall, and the dance his hands and feet made a very strong impression on me," Oleg said.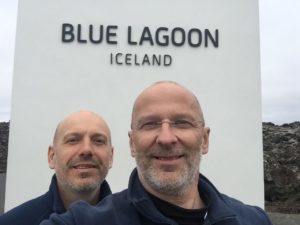 People are second after Icelandic nature, which made a strong impression on Oleg and his friend Denis. Oleg described locals as beautiful, intelligent and hospitable people. "Local aviators have all the qualities of the local population, and besides, they know perfectly the nuances of flying in the conditions of the mountainous volcanic relief of their country. I talked with two Icelander pilots and I do not think that our flight was something incredible for them. Might be they could do the same thing," Oleg said.