There are two veterans going to face anniversary together. Both were born during World War II, one in Iceland and second in the US. They had met in 1962, flew together connecting Iceland with the outer world, had to break up for years, then met again to help Iceland with forestation and then continued their cooperation until nowadays. Flugblogger has talked with pilot Hallgrimur Jónsson and has flown on his lifelong companion – Douglas DC-3 (TF-NPK).
The war
The story has begun in 1942. The world was on the edge of apocalypses. The fire of World War II affected continents beyond Europe. Allies were trying to cope with new threats. It became the clear UK will need assistance from the other side of the Atlantic Ocean.
The US army was looking for a plane, which will be capable to transport cargos and people from the US to the battle theatres in Europe. Their search was short. At this time the only civilian plane was called as safest and most efficient on the internal airways of the US. Douglas DC-3: simple, reliable and comfortable for that period of history. For military purposes small changes were needed: get rid off passenger's seat in the cabin and change main entry door for wide size cargos. The military variant of DC-3 was called C-47. The mass production had started at Douglas Aircraft's factory on Long Beach, California.
Allies were continuing their tries to overtake Nazis in Europe and beyond. 7 February 1942. In North Africa Wehrmacht field marshal Erwin "Desert Fox" Rommel had stopped his 2 weeks offensive movement near Gazala after retaken of all territory, which British Army had conquered at the end of 1941. In Norway, the head of occupation government Vidkun Quisling had cancelled the constitution and declared the dictatorship. In Iceland a boy was born, his name is Hallgrimur Jónsson.
When Hallgrimur was only 1,5 years old, far far away, at the other side of the Atlantic Ocean, at the Douglas Aircraft's factory the new C-47A with order number 43-30710 was assembled. The plane, which will become Jónsson´s lifelong companion.
Year 1943. The plane was delivered to Air Transport Command – North Atlantic Division. They settled on Meeks airbase, which later had got name "Keflavik airport". The plane was used as transport for American soldiers across Iceland and high-level military command from Keflavik to Akureyri. Its military service had ended in 1946, when "Flugfélag Íslands" ("Icelandic airlines", modern name "Air Iceland Connect") had bought the plane from the US army. At that time the airline was suffering because of lack of airplanes for its regular service. This DC-3 had got its first Icelandic registration as TF-ISH. In 1947 the plane was converted from military to civilian version with new 21 passenger's seats.
The peace
The time flew, the plane was caring Icelanders across the island, Hallgrimur Jónsson was growing. In 1960 he had made the first step to becoming a pilot and joined flight school "Þýtur" in Reykjavik. In the video below you can see how Icelandic aviation looked like in 1960-1964. The video was filmed by Ólaf Magnússon and Fanneya Sigurjónsdóttur. There are several places and aerodromes in the vicinity of Reykjavik and at the south of the island. The more detailed description of the video is available on the YouTube page, but only in Icelandic.

Hallgrimur Jónsson remembers the times: "It was… 50, no almost 60 years ago. I was thinking about becoming a pilot quite some time. I've found it number one interesting. It led me to my profession. I've started as sports flying, but then completed my commercial license. At that time there were some small companies in Iceland. The biggest two international companies those days were "Loftleiðir" and "Flugfélag Íslands". In 1962-1963 planes were mostly DC-3, DC-4 and DC-6B".
Hallgrimur had graduated in 1962 with commercial pilot license and then joined Flugfélag Íslands. It was the moment, when he met with the DC-3 plane for the first time, being a pilot. "Actually, my first flight was on this one. I flew nine months only domestically in Iceland to many different small isolated places. Then I went to Greenland, to Faroe Island, and to Glasgow", Hallgrimur Jónsson told.
After 56 years Hallgrimur is still admired by the plane, calling it "very charming". Not least because of DC-3s piston radial Pratt&Witney 1830 engines with its remarkable sound, which also need more care than other engines. He said, the plane has its own features, which are not accessible for all pilots. "It is sitting on a tail, so it is a taildragger. Means, a pilot must be familiar with taildragger technic, which is quite different. Training pilots on this airplane, I would say, ground handling – starting engines, taxiing and manoeuvring on the ground – that takes quite a practice. But once you are airborne, after gears up, it's very nice and easy to fly, the beautiful airplane", Hallgrimur Jónsson said.
He also mentioned that during piloting the plane "everything is in slow motion". The cruise speed of DC-3 usually around 130 knots, the controls all are cable operated, and they are quite heavy. Of course, the landing technic of a taildragger is different too.
Several years after Jónsson was trained on different types of aircrafts. There are a bunch of them, were added to his pilot license along with the development of civil aviation. Soon after DC-3 Hallgrimur had got access to its bigger brother – four piston engines DC-6B. Next one was Canadair CL-44. A former military transport with four turboprop engines was turned into CL-44D4-8 civilian version with 160 seats by order of "Loftleiðir". Only two planes of this variant were built. Then Icelandic airline requested a "game changer" for transatlantic flights market. Canadair answered with CL-44J, the stretched version of the base model with an additional 29 seats in the cabin. Only four aircrafts of this variant were built.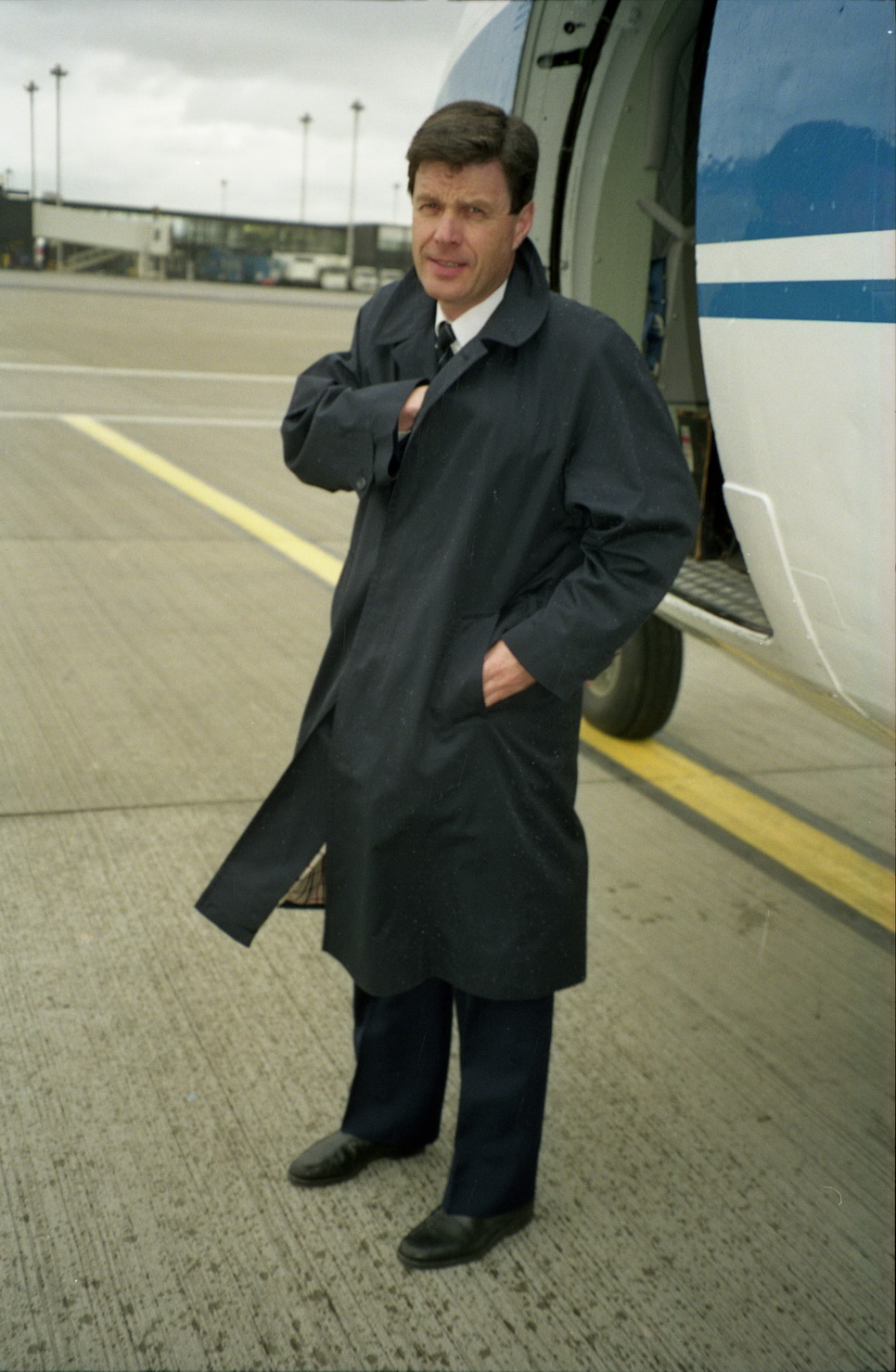 In 1970 Hallgrimur had started to fly on his first jet – DC-8. The plane becoming his main fellow for the next 14 years. "And then was Fokker F-27. Then Boeing 737, Boeing 757 and Boeing 767. So, I've ended as captain on 757 in 2007", at that year Hallgrimur Jónsson turned his 65th anniversary, "They said, I am too old to fly with passengers ".
The flight
Learning new airplanes Hallgrimur stayed in touch with his first piston airliner. In 1973 "Flugfélag Íslands" had stopped commercial exploitation of the DC-3 with tail TF-ISH. The plane was given to Landgræðslan, the Icelandic state Department of Land Reclamation. Jónsson said, the department was going to use the plane as a seeder but could not offer a salary for the crew. "The Union of Icelandic professional pilots offer us to support the operation, flying without any payment. We volunteered we able to fly the airplane. It was a group within a pilot, mainly based on pilots flown on DC-3. We did it in our spear time from 1973 to 2005", said Hallgrimur Jónsson.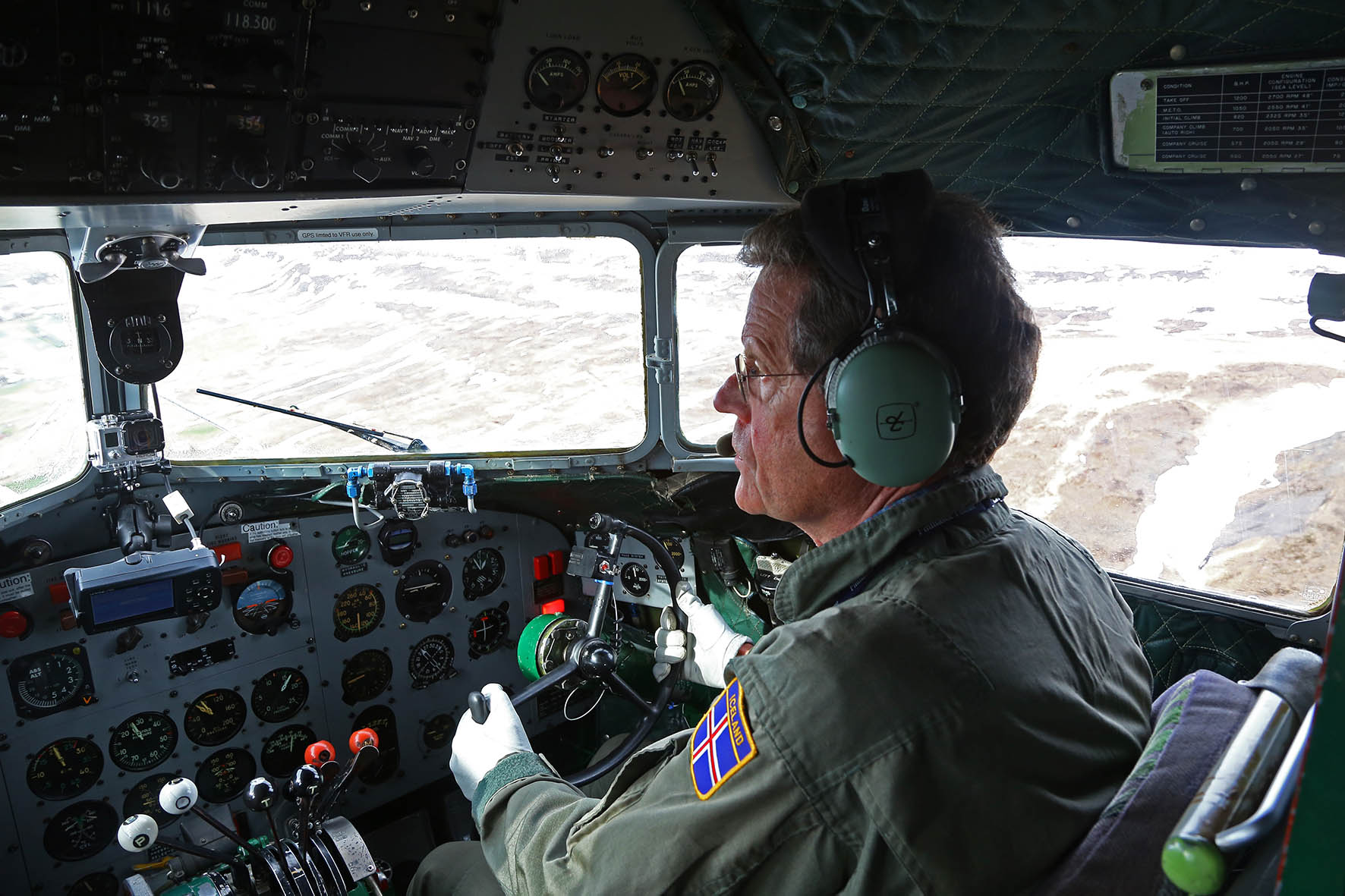 On May 12, 1973, the airplane had got a new registration and was assigned the TF-NPK identifiers, the characters being the chemical symbols of the most widely used fertilizers: N = nitrogen, P = phosphorus and K = kali. During the 30 years that TF-NPK has been in use of Landgræðslan, the aircraft has been flying a total of 4 733 flight time and distributed about 35 200 tons of seeds and fertilizer in 8 848 flights. The total flight time of the aircraft from the beginning is 26692 hours. In 2005 the Land Reclamation department had stopped to use TF-NPK as a seeder.
Further destiny of the airplane was on the edge. TF-NPK could be ruined and utilized, but aviation enthusiasts declared they are going to take care of it. They came together around the plane and formed the aeroclub – DC-3 Þristavinir Iceland ("DC-3s friends"). Nowadays there are more than 350 members in the club.
In the same 2005 year, Hallgrimur and DC-3 TF-NPK performed the most memorable tour together. It included four countries in North Atlantic, airshow, formation and long-haul flights. The first leg was from Reykjavik capital airport to Duxford in the UK to the Duxford Flying Legend Airshow. "The endurance of DC-3 maximum dry flight is 8 hours, and we were flying 7 hours and 1 minute", Hallgrimur told emphasized the risk, "Of course, during the flight, we were ready to land anywhere in Scotland anyway. There were five of us on board. We stayed in Duxford and participated both days. We were also supported by Norwegian captain Thor, who flew for us at the airshow because he had a very good experience at airshows".
It was the first time when TF-NPK appeared on a public with its new Icelandair livery. "Lovely colour scheme for DC-3", according to Duxford Airshow commentators. The purpose of the livery was to celebrate 60 years of Icelandic international flights. "Icelandair paid for it and supported the flight. And the flight number was ICE60", told Hallgrimur.

From Duxford, they flew to the actual place of anniversary celebration – Glasgow airport. 60 years before, in 1945, the first flight from Reykjavik was performed on a different plane – amphibian PBY Catalina – and the plane did not land in Glasgow, but somewhere in Scotland. Nevertheless, the day and month were the same. Meanwhile, it was very own anniversary for DC-3 TF-NPK and Hallgrimur Jónsson himself: "According to my logbook, I landed the same airplane in Scotland on the same day in 1965. So, it was 40 years difference".
Next stop for them was on the other side of the North Sea. TF-NPK took-off and directed to Roskilde airport near Copenhagen. After a short stop, Icelandic DC-3 performed a very special low pass over Denmark's capital airport.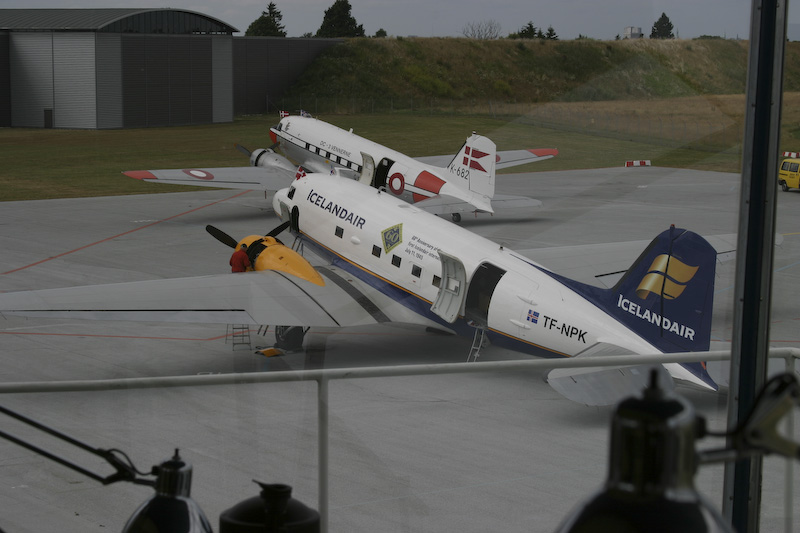 "We were given permission to overfly Kastrup from East to West across the south runways, flying along in the formation with their Danish DC-3. The airport was operational, the traffic was arriving on runway 22L, departing 22R. But we came along runway 30 at 800 feet wing to wing overlying above Copenhagen. That was interesting. Then we landed in Copenhagen and stayed there for 1-2 days", Hallgrimur Jónsson told.
The last stopover for the TF-NPK and the crew was in Norway. Icelandic DC-3 left Copenhagen and flew to Sandefjord airport at the south of Oslo. "We were intercepted by Norwegian Dakota and we were flying wing to wing over Oslo and Sandefjord, then landed in Sandefjord. We stayed there for 2 days, participated in the airshow. Then we took-off from Sandefjord to Bergen for a fuel stop, then we departed to Iceland", Hallgrimur remembered.

The back trip was planned with one stop for refuelling on the Faroe Islands, but the weather helped and they continued without a landing. It was their second long-haul flight during the tour – 6 hours 20 minutes.
On the wing
Nowadays Hallgrimur Jónsson continues to work as a pilot. He flies on King Air B200 for calibration flights and different types of approaches in Iceland, Greenland and Faroe Islands.
TF-NPK with the crew of "DC-3 Þristavinir Iceland" continues to be a participant of every big aviation event in Iceland. In summer 2018 one of the plane's engine has been repaired, then it performed on the annual Reykjavik Airshow in September.

After all these years of flying on DC-3, what is the best part of the plane? Flugblogger's question led to a short answer. "It's fun to fly", Hallgrimur said, "And, of course, it's historical operation. So, everything flying on old airplanes is full of respect to old historic operations. What I like is to… try to keep the history alive".