The annual Reykjavik Airshow this year was dedicated to the 100th anniversary of Icelandic aviation. The flight program was supplemented by air balloon and PBY Catalina. Each of them has his own "Icelandic" story. Flugblogger has visited the Reykjavik airport to talk with the special guests.
What is happiness?
One of the definitions says, "to find a person, who understands you".
On the first day of summer 2019 the biggest group of people in Iceland, who share the passion for flying machines are got together in the Reykjavik airport. The year 2019 is special for local flyers. From the very early amphibian, Waco planes back in 1919 the national aviation was born. 100 years later all types of aviation geeks, pilots and interested people became witnesses of the development outcome.
The diversity of Icelandic aviation
The ground exposition was the first thing, which a Reykjavik Airshow visitor saw after passing the breach of the aerodrome fence. This year the territory of the airshow was slightly rearranged, giving more space for the ramps, where "Eagle Air" continued to serve their scheduled flights during the airshow. All kinds of general aviation aircraft were exhibited near the entrance. "Diamonds" of flight schools Geirfugl and Keillir, private Cessna's and Piper's.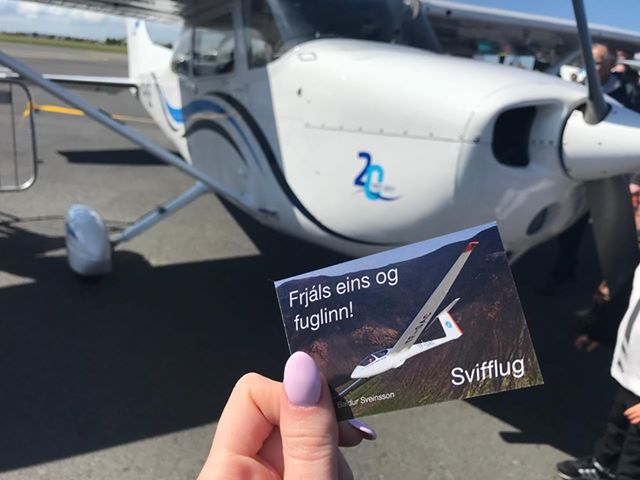 Also, several helicopters from guided tours companies, including an Airbus H130 from "Circle Air", which came to Reykjavik from Akureyri for the summer season, and Bell 407 from "Helo". Next, there was Icelandic Coast Guard Bombardier Dash 8 Q300MSA TF-LIF, which was exhibited the first time for several years. Selfoss aeroclub brought their most recent helicopter addition. There were Icelandair Cargo Boeing 757 TF-FIG and "Pall Sveinsson" DC-3 TF-NPK.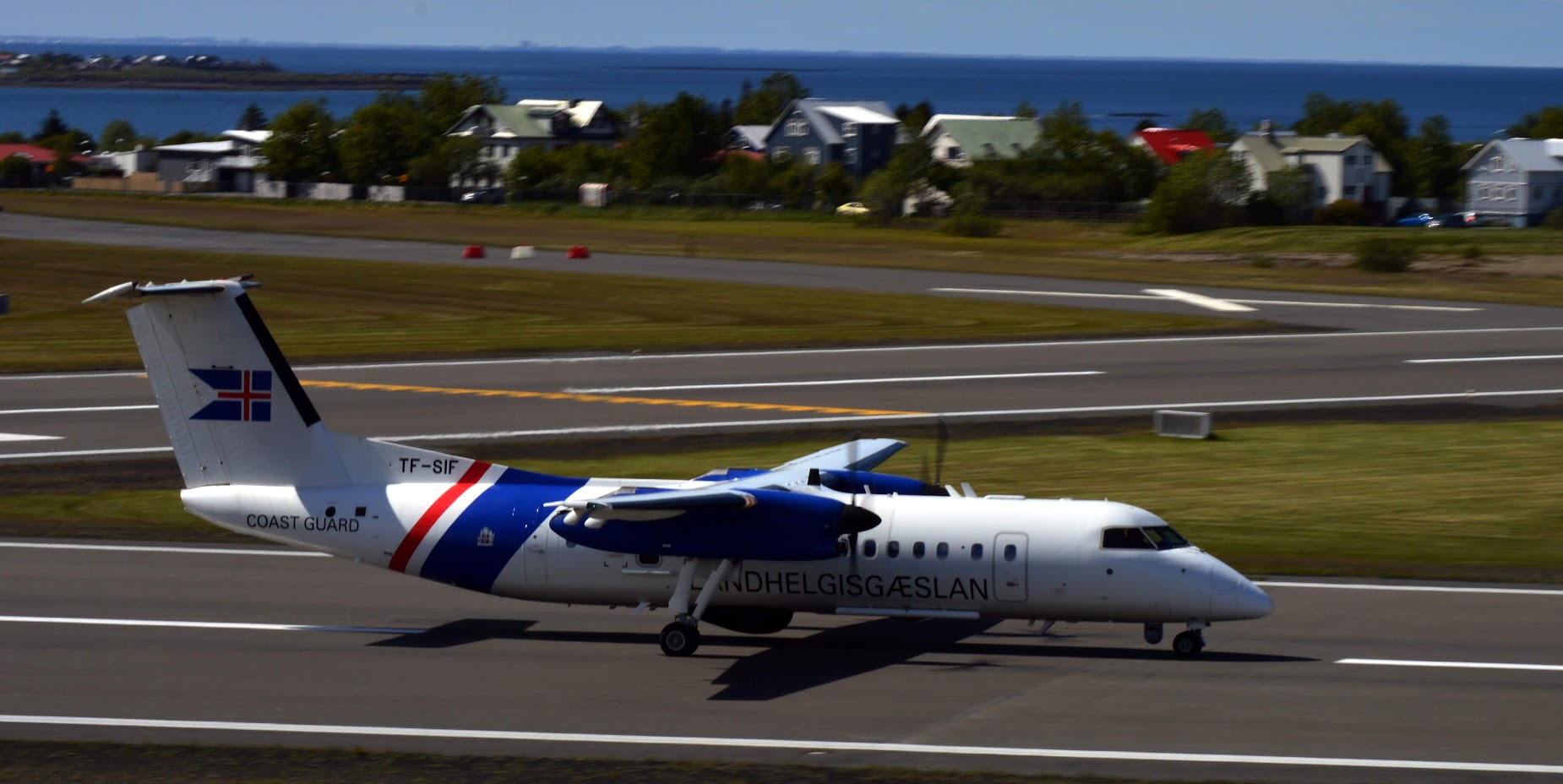 The flight schedule included Icelandic Coast Guard helicopters Aerospatiale AS332L1 TF-LIF and Airbus H225 TF-EIR, aerobatics on glider Schleicher ASK 21 TF-SAC piloted by Krtistján Sveinbjörsson. Sigurjon Valsson has performed aerobatic flight on the oldest plane in Iceland – Stampe et Vertongen SV.4 TF-OLD. The plane was bought by two Icelandic pilots – Sigurjon Valsson and Elias Erlingsson. In November 2017 it arrived in Iceland in unflyable condition for renovation and performed its first flight over Iceland in May 2018.
Snorri Bjarnvin Jonson performed aerobatic flight on the only Icelandic Yak-52 TF-BCX. Gunnar Víðisson almost hovered above the crowd on his STOL Piper PA-18 Super Cab TF-KAJ. Then Reynir Freyr Pétursson started to race on Bell 407 TF-HHH of "Helo" with Ólafur Björn Ólaffsson, who was driving ground "bullet" sportscar – Lamborgini Huracan. It seems Ólafur has won, but Reynir probably will ask for a revanche.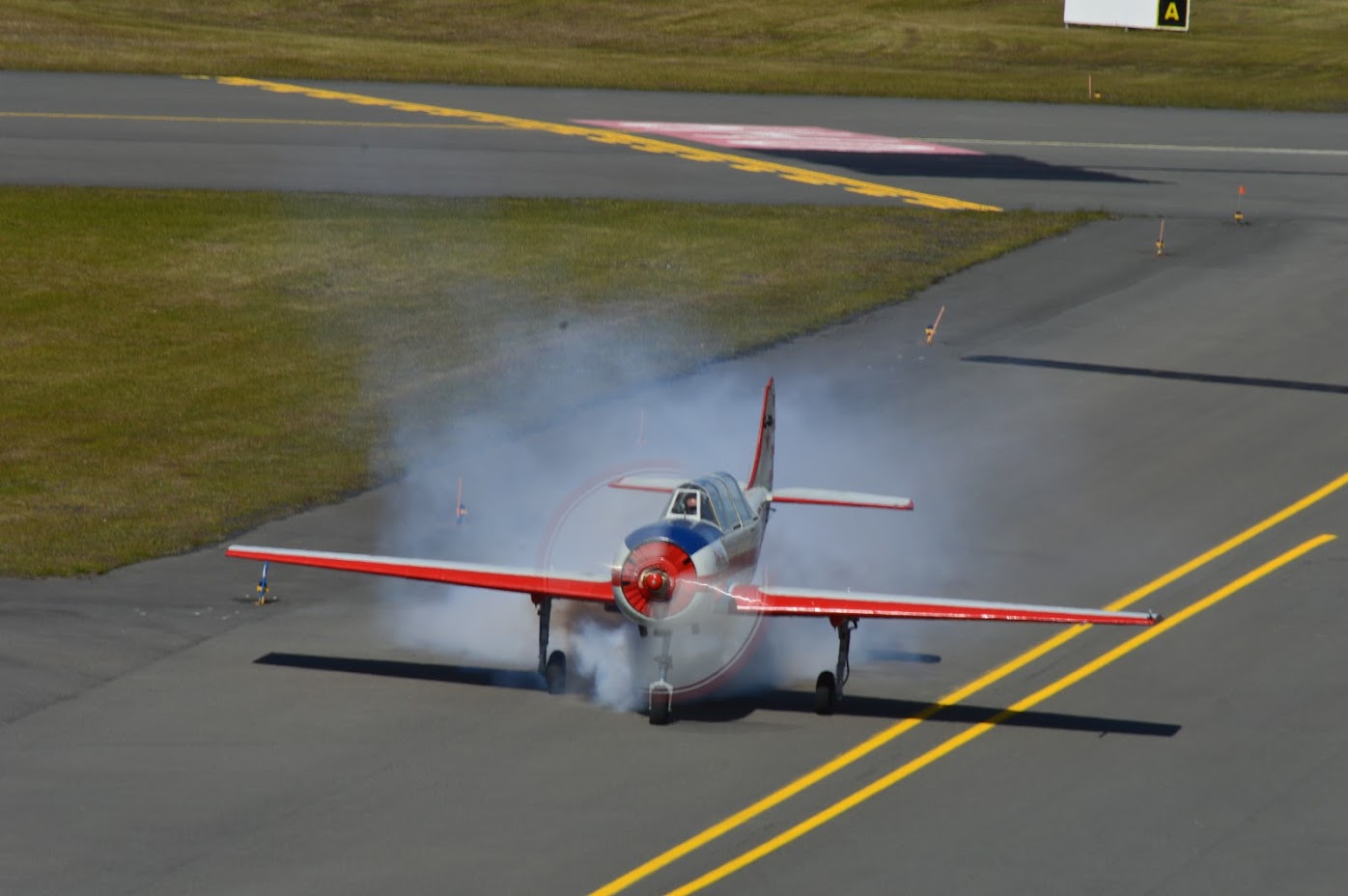 "Eagle Air" showed off with their Dornier Do328 TF-ORI, which was added to their fleet last December. The plane performed several low passes and manoeuvres with big bank angle. After that, the flight program was unexpectedly supplemented by lowpass of Icelandair Boeing 757-300 TF-ISX in national Icelandic colours, which was performing regular Icelandair flight ICE451 from Heathrow to Keflavik.
It was followed by Icelandair Cargo Boeing 757 show, which performed several speed approaches over the crowd before leaving to Keflavik.
Then rumbling a sound echoed through the airfield and DC-3 showed to the all these young people how "real plane can fly". Some visitors would say it is quite packed flight schedule, but it was not the end.
Icelandic submarines hunter
"The history of this plane is really connected with Iceland and the US, not the Netherlands", PBY-5A Catalina PH-PBY pilot-in-command Rogier Leeflang said, standing with Flugblogger in front of the aircraft on Reykjavik Airshow. Yesterday Rogier had landed the amphibian plane in Reykjavik after 10 hours flight from the Netherlands with a shortstop in Wick, Scotland.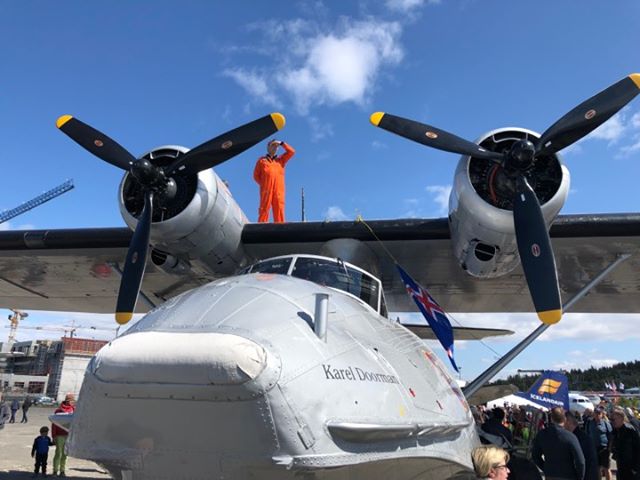 Rogier regretted that PBY-5A Catalina PH-PBY is leaving Iceland, the country which was a home for the aircraft during World War II. Back in history. The plane was assembled with construction number 300 on 15 January 1941. One year later the amphibian was delivered to Hvalfjörður sea-port and then to Fleet Air Base of the US Navy in Reykjavik. By the Naval Air Office, the plane was signed with number 2459, which was a type of registration back then. During the war times, the PBY-5A Catalina 2459 was participating in military patrols, hunting for German submarines in the Atlantic Ocean. The main goal for the aircraft was to protect the convoys, incoming from the West.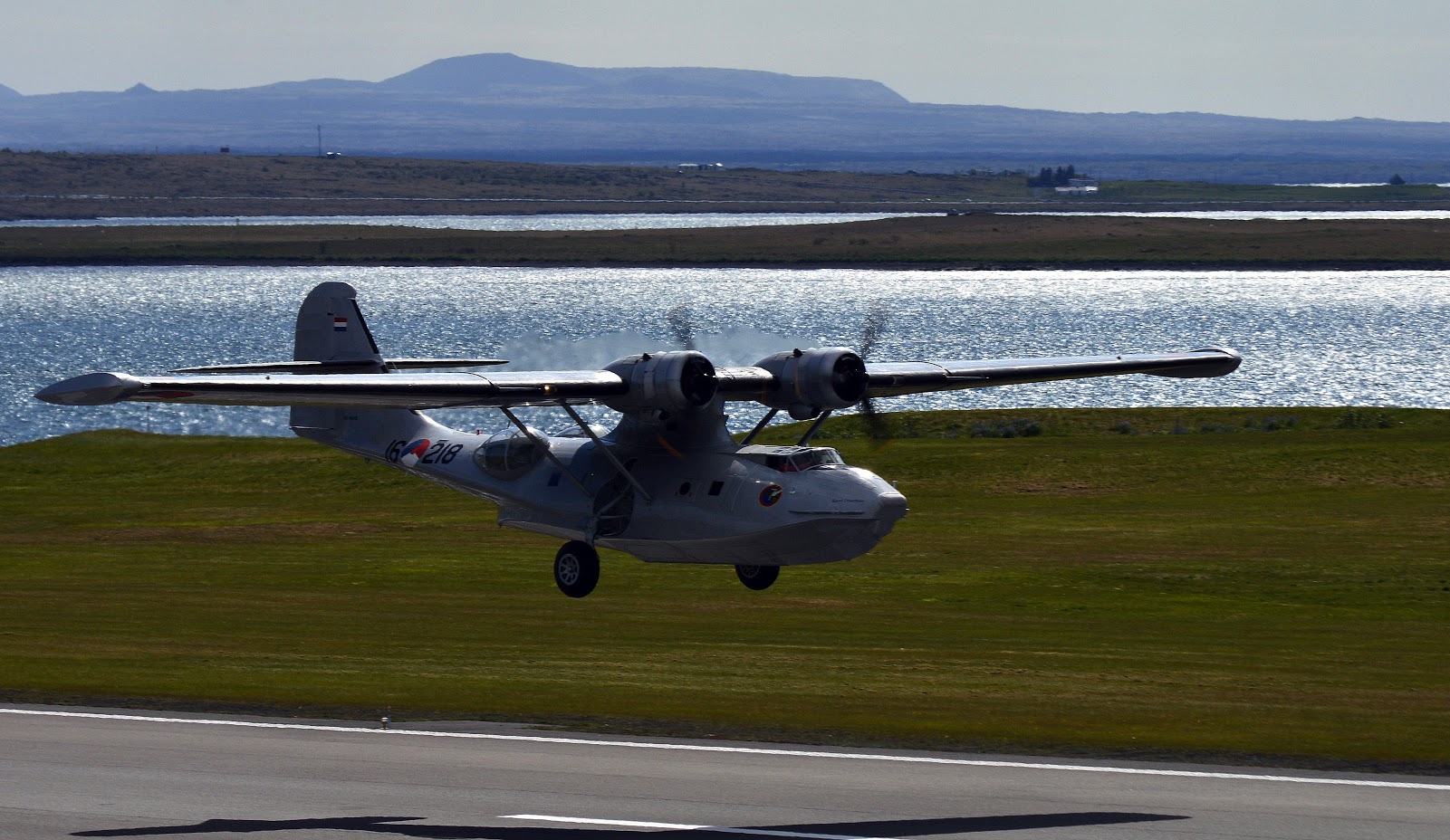 "The plane has a long range. During the Second World War, guys were departing on it from Reykjavik at 4 of the morning and coming back not earlier than 8 of the evening", Rogier Leeflang told. According to Dutch PBY-5A Catalina website, the plane had attacked and damaged at least five German submarines.
Here you can see interactive 360 degrees view inside the cockpit of PBY-5A Catalina PH-PBY:
"Tomorrow we will fly from Keflavik to Goose Bay. It will be 12 hours flight, so we are not planning to land in Greenland. After Canada we will fly to Boston, then some airport in Virginia and further to our goal in Florida. Before this flight, the plane had been in the Netherlands for 25 years. We have no means to serve it anymore, so had to sell it to Collings Foundation. When we understood when and how we will deliver the plane, the organizer of Reykjavik Airshow Matthías Sveinbjörnsson asked us if we want to come and participate in the event. It turned out that 1st of June was very close to the day when we wanted to pass through Iceland," said Rogier Leeflang to Flugblogger.
Icelandic extreme for Montgolfier brothers' disciple
Reykjavik downtown, midnight sun, air balloon. Wait! Air balloon? Yes. Young people even would not remember when it was the previous time in Reykjavik, but one day before the airshow an air balloon was launched over the city.
Here you can see the interactive 360 degrees view from their flight travel:
The air balloon over Reykjavik was Cameron – C80, where "80" stands for 80 000 cubic feet (2 200 cubic meters). That is how much air you can fill in the balloon. The height of the balloon when it is filled is 20 meters. It belongs to Oslo balloon club but based in Sweden. That's why it has a Norwegian outfit and registration number. Several days before the airshow it was delivered to Reykjavik from Sweden though Copenhagen with Icelandair. The air balloon's basket can accommodate four propane tanks, 20 kg of the gas each. One tank is enough for one hour of flight time. With four tanks three persons can travel in the basket. Due to necessity, a propane tank could be traded for additional space for a passenger, maximizing the people's capacity to four persons.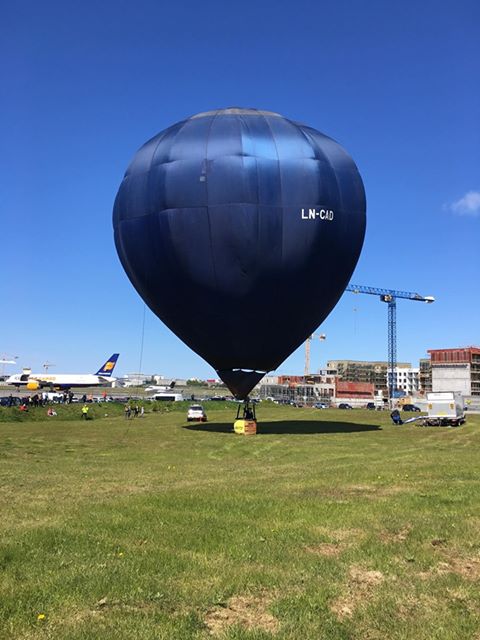 "Therefore, with two passengers I can fly maximum four hours", air balloon pilot Anders Brobjer told Flugblogger, "But usually we don't fly so long". For example, the last flight over Reykjavik lasted 15 minutes only, but it was the outcome of unforeseen circumstances.
"We had a terrific situation on Thursday night. The problem with ballooning is that you need to have calm winds, about 2 m/s. That is not prevailing wind in this part of Iceland. When we started we had a wind direction that was very nice for the flight. But we had a little problem with the Icelandic aviation authorities, who are not used to balloons. We were waiting for a permit for take-off and it took a while before we got it. We took off and in the meantime, the wind shifted a little bit. Despite our plan, after departure, we started to fly more over Reykjavik itself and heading more to the ocean. It is not dangerous, but you would not want to go out to the ocean on the air balloon", Anders Brobjer told.
The wind changes led to the early end of the flight. The Montgolfier brothers´ descendants had to find a spot for landing the air balloon in the middle of the city. It came to the driveway to Höfði house, the building where Gorbachev met Reagan back in 1986.
"When you fly a balloon, you cannot plan where exactly you will land, you follow the wind. If the wind is still, you should land where it is suitable for land. We could be to land on the shore, but there are lamp posts, which we did not want to go into. That's why we choose the driveway to Höfði house. It was very nice to land in such a historical place. Therefore, our flight was just 15 minutes", Anders Brobjer told.
According to METAR of Reykjavik airport, the wind during the airshow was 9-12 knots (4-6 m/s). Anders concluded, it is too dangerous to fly an air balloon with so strong wind, which is probably the main reason why there are no air balloon clubs in Iceland. "There is no surprise when someone told me that it is 35 years ago since there was a balloon in Reykjavik", – Anders Brobjer said.